How to Use a Sqweel 2
Discover the joys of the Sqweel oral sex simulators and you'll be hitting those high notes in no time!
Enjoy the latest in cunnilingus technology with a Sqweel oral sex toy. There's no need to settle for household objects that feel like a tongue to get your oral hit any longer. Instead, get your hands on a Sqweel toy.
Sqweel toys are designed to stimulate your juicy jewel to produce earth-shatteringly intense clitoral climaxes. With several speeds and patterns to choose from, you'll be spoilt for choice with your Sqweel wheel.
So, if you're a fan of the Australian kiss or are keen to try a new kind of clitoral sensation, we've put together some of our hottest tips to help you get the most from your Sqweel toy. From solo loving to partnered play, Sqweels make for incredibly versatile toys.
What is a Sqweel?
The Sqweel is an innovatively designed oral sex simulator. Available in both the Sqweel 2 and the Sqweel Go, these toys both feature a series of soft, silicone tongues that are attached to a rotating wheel. This spinning wheel rotates at different speeds to replicate the amazing feeling of kissing the kitty. And with a simple finger control that's been ergonomically designed, you can now satisfy yourself at all hours of the day and night with these nifty oral devices.
Not sure which Sqweel to please your pretty pistachio with? Here's a quick rundown on how both Sqweel toys work and the differences between the two.
Sqweel 2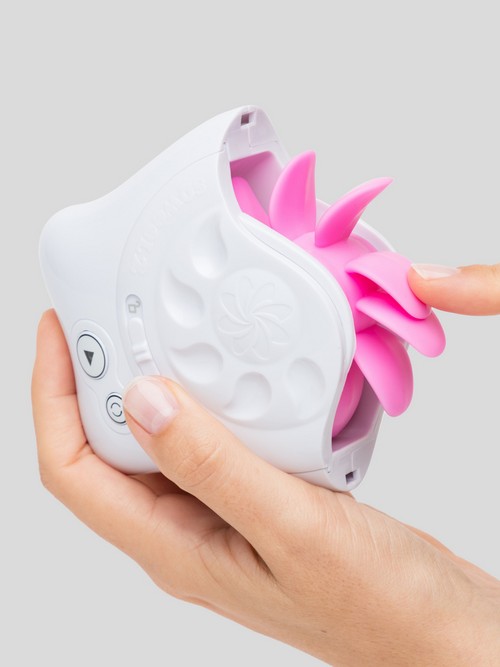 To kick things off, the Sqweel 2 is the new and improved Sqweel toy. Enjoy 30% more power than the original Sqweel, a new reversible mode, and a delightful flicker function that rocks the wheel back and forth, massaging your magic bean to completion.
Featuring an incredible 10-tongue wheel crafted from silky smooth silicone and three rotating speeds, this spinning wheel of ecstasy is sure to bring you to a head. Housed in a compact, travel-friendly case, the Sqweel 2 makes an extraordinary playmate for your next weekend away.
Still not convinced? Don't take it from us, check out this glowing Sqweel review:
"This was amazing. It felt a lot less like a toy. The noise was loud but less jarring than some, just a steady drone. The first time I used it, I came twice in under 10 minutes. I can't recommend it highly enough."
Sqweel Go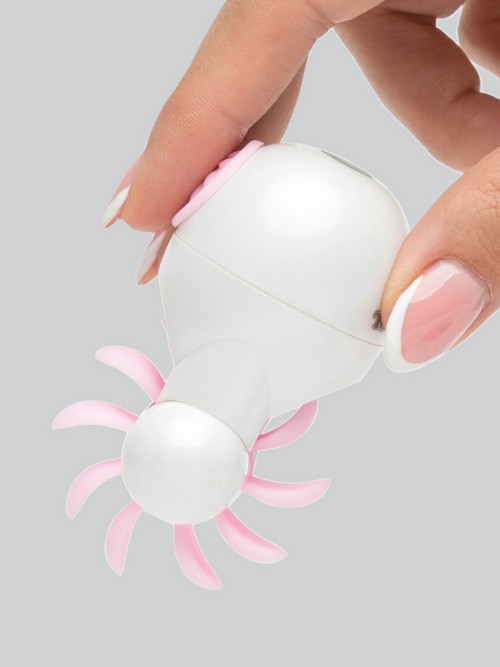 The Sqweel Go is the Sqweel 2's even more compact little sis. She's still got those 10 stimulating tongues - they're just on a smaller scale, making her the perfect pocket pal.
With three speeds and three vibrational patterns to enjoy, you can take your time exploring the light shudders, intense pulsations and fast-licks settings.
The Sqweel Go is USB rechargeable and only takes two hours to fully charge, so you can enjoy a quick break before indulging in another hour of pure oral pleasure.
Think the Sqweel Go could be the perfect fit for you? Hear another rave Sqweel review from a very happy Lovehoney customer:
"Always been interested in a toy like this and finally got around to buying one. I really like this. It's small and has cute colours, and a charge lasts a while. 100% worth getting if you're like me and you've been considering one for a while. It's very fun."
How to Use a Sqweel
One of the best things about Sqweel oral sex toys is how simple they are to use. Both the Sqweel 2 and Sqweel Go have been designed to sit snugly in the palm of your hand with the control buttons in easy reach of your digits.
Before you get down to business with your Sqweel, make sure to give it a good lashing of the slippery stuff to really emulate the sensations of eating the peach. Just squeeze a dollop of your favourite water-based lube into the palm of your hand and turn on the Sqweel to let it lap up the lube. This will help to coat all those tongues to give them that silky, wet texture for a more realistic oral experience.
Once you've had enough fun for the day, make sure to give your Sqweel a good clean before storing it for your next sesh. Not only are these babies super easy to use, but they're also simple to clean - you can check out our cleaning guide to learn how to keep your Sqweel in tip top condition.
Although the Sqweel toys have been designed as an oral sex simulator, there's a whole stack of fun ways to enjoy these toys - and you don't have to have a magic bean to get in on the fun. Use the sensual tongues during foreplay to stimulate other sweet spots around the bod.
Sqweel's are perfect for solo loving, but they also lend themselves well to partnered play if you're keen to introduce your new plaything to your kinky companion.
Taking your Sqweel solo
If you're keen to explore your Sqweel on your own, there's plenty of toe-curling ways to have fun with it. Start by holding your Sqweel slightly away from your muff so the tip of the tongues just flicker against your hidden bud before moving it closer for some full-on oral stimulation.
Test out the different speeds, patterns and even throw in some new angles to really put the Sqweel through its paces. If you've got your hot little hands on a Sqweel 2, hit the play button to discover the reverse and flicker functions. Otherwise, the Sqweel Go has its own titillating patterns you can cycle through to tailor make your pleasure.
How to use a Sqweel with your suitor
If you're getting your kinky companion in on the action, you won't be short on ideas for dual pleasure. Try using the Sqweel tongues on yourself while your boo focuses their attention on other sweet spots across your bod.
Alternatively, if your wooer has a joystick, you can try using the tantalising tongues on the head of their peen, which has similar nerve endings to your juicy jewel.
Whether you're after solo stimulation or a fun partner's toy, the options are endless with the versatile Sqweel range.