The Best Oral Sex Toys for Him
The only thing better than head is having it on tap 24/7. We're here to make your dreams a reality with our top sex toys for oral sex for people with penises.
Oral stimulation sex toys that feel just like the real thing, what could be better? Thanks to continuous sex toy innovation, you can experience the mind-numbing sensations of having your knob polished around the clock even when you're flying solo.
But what does a blowjob feel like with a BJ masturbator? As you'll soon find out, these oral simulators feel just as good as the real thing. So if you've ever wondered how to simulate a BJ with a sex toy, you've come to the right place. Lovehoney has a huge range of oral sex toys for him and penis owners, but we've put together our top picks for the best blowjob masturbator to save you from scrolling through the list of endless options.
Blow Job Strokers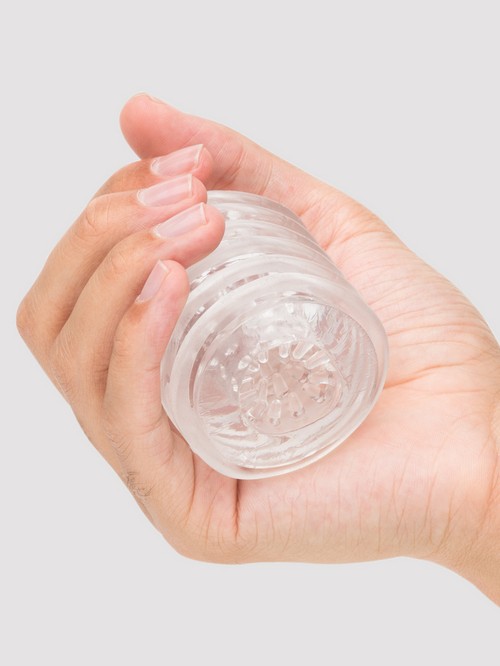 Blow job strokers are a great place to start if you're new to oral sex toys or are on the hunt for a non-intimidating, non-realistic looking toy. And because these blowjob masturbators don't look like a real mouth, they're fantastic for use with your kinky companion.
The canal of a blow job stroker is usually jam packed with different textures, ribs and fronds that are designed to stimulate your schlong from top to bottom as you move it up and down your pecker.
Some strokers, like the Lovehoney Head Master Double Texture Blow Job Stroker, are even open-ended, so they're ideal for all sizes as you can tease all the way down your tool to mimic those deep throat sensations. Heck, these open-ended beauties can even be used during head for a bit of extra sensation along your swellington.
Strokers come in a range of different shapes, sizes and textures, so you'll be sure to find a stroker to suit your shaft. If you're a fan of super tight sensations, then the Tracey Cox Supersex Supertight Clear Stroker is a great choice, but if you're particularly well-endowed then the Lovehoney Reversible XL Double Stroker Pleasure Waves will likely offer a better fit.
Not only do these toys feel incredible, they're also easy to clean once you hit the jackpot. Just give them a good once over with some soap and warm water or a sex toy cleaner if you've got one on hand.
Realistic Mouths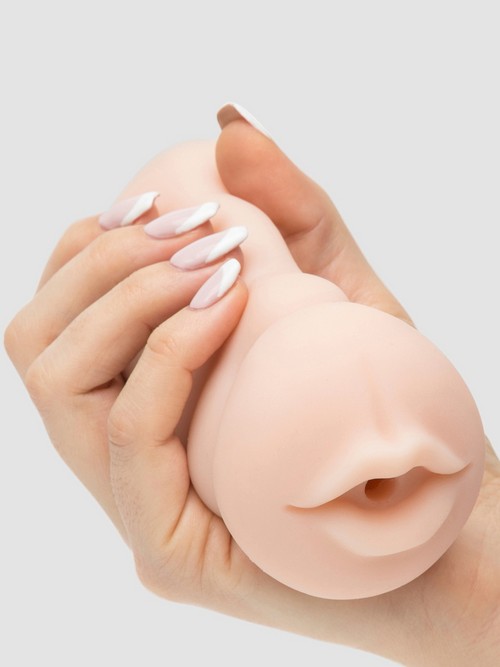 If you want a gobby that feels AND looks like the real deal, then sometimes it pays to opt for a blowjob masturbator that's designed to look just like a realistic mouth. These realistic masturbators are crafted from super soft, skin-like materials that look and feel just like your lover's luscious lips.
THRUST sex toys are renowned for their hyper-real appearance and feel.
The THRUST Pro Mini Ruby Textured Blow Job Mouth features a soft mouth opening that leads to a tight, incredibly textured canal that will fulfil all your deep throat fantasies.
If realism is what you're all about, then the Magic Eyes La Bocca Della Verita Realistic Blow Job Stroker comes complete with a tongue and teeth. You can even submerge this stroker in warm water to bring it up to body temp to really replicate those real-life sensations.
Male Vibrators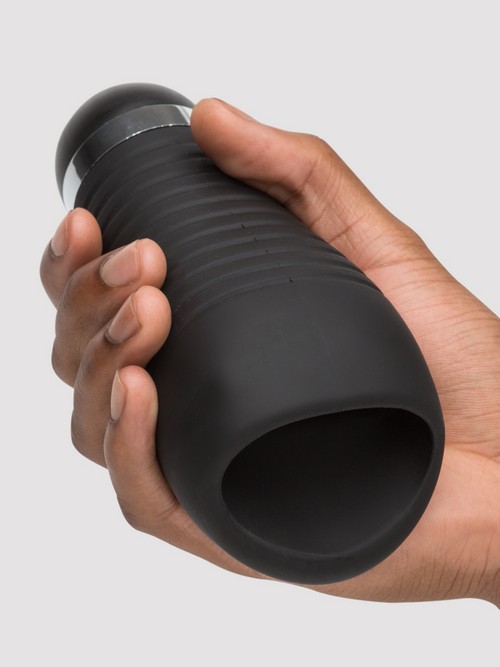 It turns out that vibes aren't just for vulva owners… They also make for incredibly stimulating sex toys for him and penis owners too.
Male vibes are a great option if you're on the hunt for oral stimulation sex toys for people with peens. While some are designed to wrap around the head of your pecker, others are open ended and even open-sided so they can accommodate all lengths and girths.
Regardless of their shape, male vibes deliver incredible pulsations and vibrations to your vertical stick.
Just like a regular vibrator, they often come with a range of different vibrational patterns and speeds for you to cycle through until you find something that really gets you buzzing.
The Lovehoney O Force 2 Dual Motor Powerful Male Vibrator is the perfect un-intimidating addition to offer a helping mouth to your bedroom play. This vibe is designed to stimulate the head of your old fella with not one but TWO motors for truly toe-curling vibrations.
If you're chasing a super realistic oral simulator, then a heating male vibe like the Blowmotion Warming Vibrating Male Masturbator not only delivers the good vibes but also warms to 40°C for unbelievably lifelike sensations.
Stroker Cups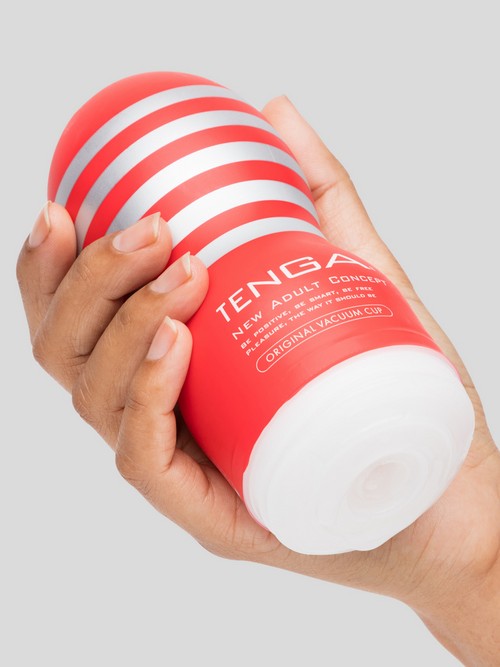 Stroker cups are a type of masturbation sleeve that's housed in a firm case. The canals are lined with incredibly stimulating textures that are designed to mimic the glorious, tight feeling of a blowie.
TENGA toys are renowned for their realistic head job feels. The TENGA Original Vacuum Deep Throat Onacup in particular is lined with innovative valves to help you create those deep, sucking sensations that feels just like that real deep wet and warm.
You can even customise your Oncacup experience by adjusting coverage of the suction hole at the end of the cup. Plus, it comes pre-lubed so it's ready to go as soon as the mood strikes you. GENIUS.
Not a toy, but... Lube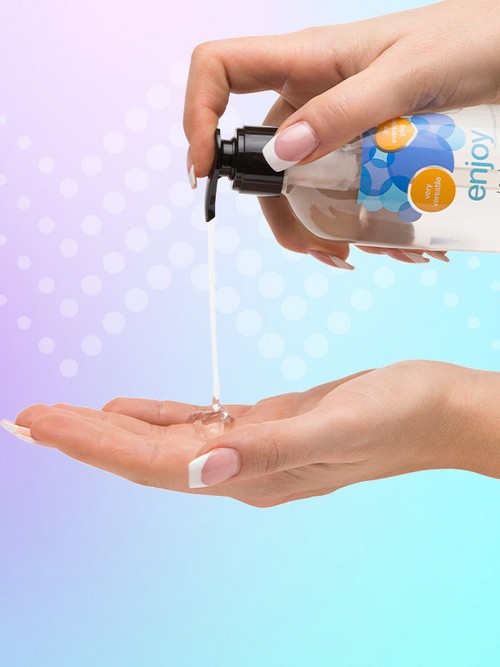 Last but certainly not least, you've got to put the WET in wet and warm with a generous slathering of lube. If you like it especially sloppy, then you'll want to double down on the slippery stuff. Slather your rod and your masturbator with a good helping of the swelly jelly to really enhance the experience.
From water-based to silicone lubes and tingling slippage, Lovehoney stocks a huge range of different lubes that are sure to suit everyone's tastes.
Just be sure to check that your lube is compatible with the material of your sex toy so it doesn't disintegrate in front of your eyes. If you're dropping cash on a new blowjob masturbator, you'll want to make sure you're getting your money's worth.
And if you need a helping hand in the prep department, then Lovehoney has you covered with our range of products for lads and penis owners designed to make doing the deed even better. From bubble bath to penis extension systems, we've got everything to take your next five-knuckle shuffle to mind-blowing new levels.
Other Sex Toy guides you may like