This handy guide will explain how to find and enjoy P-spot stimulation with any prostate massager.
If you've never experienced the pleasure of prostate stimulation, you've got a ton of fun ahead of you.
Seriously, this wondrous gland packs a hell of a punch and this guide has all the good oil you need on how to use a prostate massager.
Discovering your prostate gland – or your P-spot – isn't that difficult, but truly harnessing its pleasure-giving potential can take a bit of time and skill, which is why we're here to help.
Located a few inches inside the anus on the wall closest to the stomach, the prostate gland, is an incredible epicentre of pleasure. Unless you're a surgeon, you won't be able to see it but massaging it can lead to explosive full-body orgasms, hands-free 'super-Os' and even multiple climaxes. Yep, for real.
Before we begin, if this is your first foray into prostate play we think the link below might be a better place for you to start.
Video: How to Find Your Prostate
Find out more about how to stimulate your prostate with the help of this video from Lovehoney.
Prostate massagers are specifically designed to stimulate the P-spot. We usually recommend finding the area with your fingers first but feel free to follow your instincts. Once you've found the spot, you're off to the races, with both vibrating and non-vibrating prostate sex toys ready and willing to give you powerful P-spot orgasms.
Most prostate massagers, like the Lovehoney Booty Buddy have a tapered tip to ease insertion and a rounded head to ensure precise stimulation.
Certain toys, such as the Mantric Rechargeable Remote Control Prostate Vibrator, feature a wireless remote, allowing you to enjoy effortless anal vibrations at the touch of a button.
A lot of them also feature an external arm to give extra attention to the perineum, the sensitive area between the anus and the scrotum, which essentially stimulates the prostate from a different angle and dials up the intensity.
Although many people see larger prostate massagers as more advanced, the bigger ones, like the We-Vibe Vector+, are actually ideal for beginners as they find your P-spot much more easily.
Massagers with smaller tips, like the Aneros Helix Syn Trident Silicone Prostate Massager make it slightly harder to find the prostate gland but can make the experience more powerful.
Deciding whether you prefer a vibrating or non-vibrating prostate stimulator is a personal choice. Just keep in mind that if you opt for a non-vibrating model, you won't be able to add vibrations later. However, you can always turn off the vibrations if you don't enjoy them.
Whichever type of prostate massager you decide to go for, the way to use them is much the same.
Get clean
Since your bum's day job is to poop, it's a good idea to get yourself clean before prostate play.
"It's easy to assemble and works a charm. That feeling of filling yourself up with water alone is enough to turn you on and get you ready for anal play." - Kdot80
If you've done your number two for the day and had a good wash in the shower, you're good to go. Some blokes like to also use an anal douche to flush the old poop chute before getting intimate with a prostate massager.
Like any adult toy, you'll also want to give your prostate massager a good clean before and after you use it. The post-play clean-up for an anal toy is extra important though.
When you're dealing with any kind of bum fun, there's always going to be the risk of uninvited (but very natural) guests from your body showing up and bacteria which can potentially be harmful if you're not practising good hygiene. Spend at least 30 seconds washing your toy with warm water and a mild soap or toy cleaner, leave it to air dry and then store it separately.
Love your Lubricant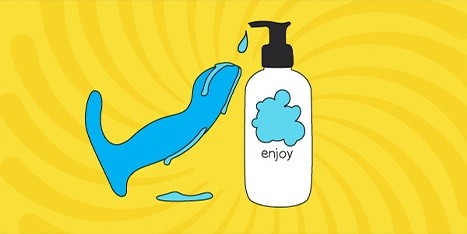 We say everything is better with lube at Lovehoney. And since your backstage door does not self-lubricate, you should be using lube, whether it's your finger or a sex toy going up there.
"After a brief time of manual stimulation to relax myself and a generous application of lube, I found I had no trouble in inserting the product." - Mafro
The type of lube you use depends what your prostate massager is made from, but a good quality water-based anal lubricant is compatible with the widest range of toys.
Get comfortable and warm up your body
Now, you might think you should start small with a prostate massager and work up to a bigger one. Nope.
It's counter intuitive, but the small ones tend to be for more experienced users as their fine tips require more precision with your P-spot stimulation. L-platers should choose a prostate massager with a broader tip.
Don't go plunging it in, make sure you get nice and relaxed. Warm up with your finger or another anal toy and get the party started.
"Once I toyed with it for a bit, I pushed it all the way home and the head of it slid up against my prostate effortlessly and nearly made me orgasm straight away. Once I got used to it pressing up against my P-spot, the sensations that it was causing were exquisite." - pkm85
Lube up your prostate massager, then position yourself - either on your back with your legs raised or bent over with your upper body leaning on a couch or bed. Slide the prostate massager inside. Don't force it, and if you experience discomfort take a break to get used to the new sensations.
Pro tip: If you're feeling fully relaxed and appropriately lubed up but you're still struggling to insert your toy, try "bearing down" (as if you were trying to do a bowel movement) to push out and open up the muscles in your rear.
Exploring through manual play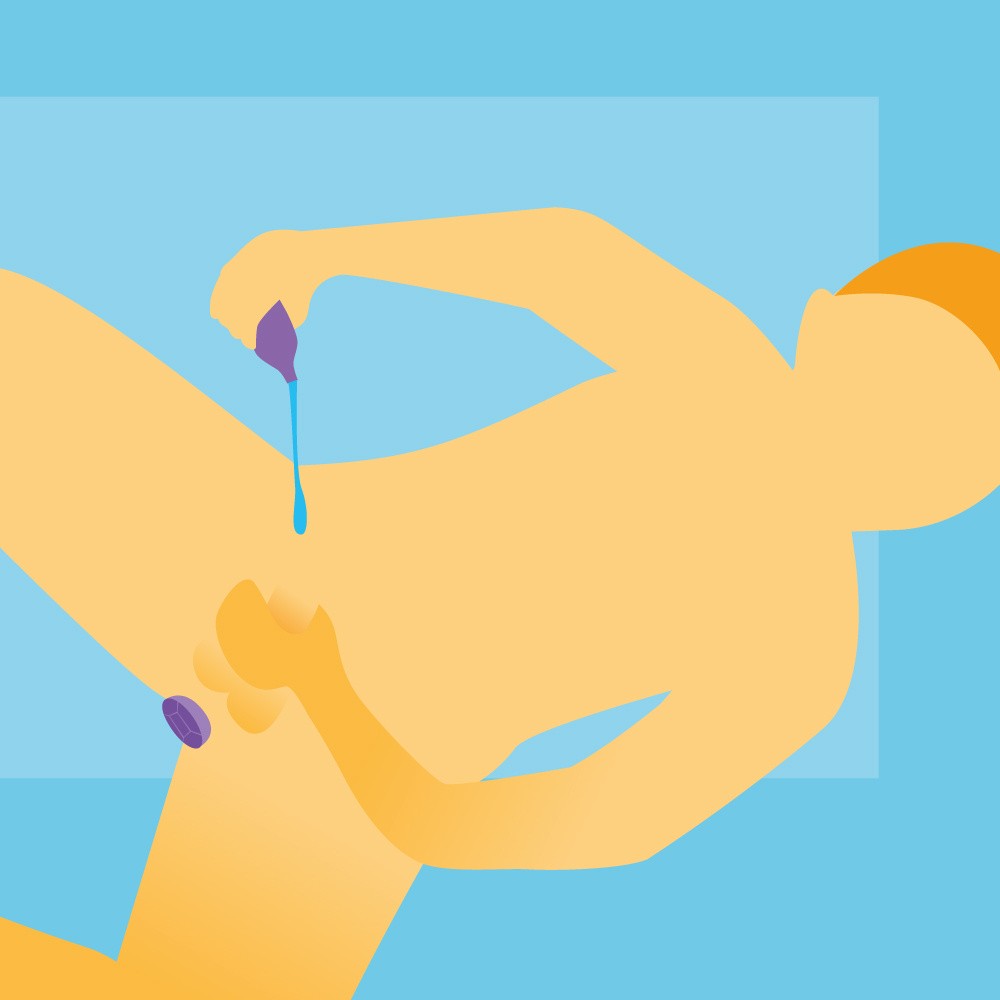 You can start with a rubbing motion, moving your toy around the prostate gland. What feels good? Try a bit more pressure? Feel good? Many people find that firm pressure brings them closer (or all the way) to orgasm.
You can try an up-and-down motion, with rapid strokes over the P-spot for more intense stimulation.
Once you've gotten into a good rhythm, work your multi-tasking skills and play with your external pleasure spots.
It's your bod, so have a play and work out what feels good to you.
Let your PC muscles do all the work
Some guys experiment by moving their prostate massager manually, but some find they get more from it if they allow their PC muscle group (pubococcygeus) to do the work.
That's the muscle group you can contract to make your stiffy bounce like a roo.
It takes a bit of experience and practise, but some people reckon they can achieve a hands-free orgasm by clenching and releasing their muscles and letting the toy move with the body.
The most important thing to remember is to go slowly and experiment. If the first toy you try doesn't do it for you, don't give up. Everyone is different and you'll be able to find the right fit for you.
Our Top Recommended Prostate Massagers
More Sexual Happiness Advice