Get the lowdown on how to treat your lover to some backdoor bliss.
While most people are familiar with fellatio and cunnilingus, fewer people are acquainted with its backdoor counterpart - analingus or anal rimming.
If you've ever found yourself wondering what is a rim job or how to go about analingus, you've come to the right place. Read on to find out everything there is to know about rimming and how to give that backstage area a bit of oral attention.
What is a rim job?
So, what is sexual rimming? Whether you know it as - rimming, analingus or simply bum licking - a rim job is the act of stimulating your playmate's anoos with your lips, tongue or mouth in general.
The exit hole is loaded with incredibly sensitive nerve endings, making it prime for stimulation. Because of this, rimming makes for fantastic foreplay or as a delightful accompaniment to regular old oral sex.
And one of the absolute best parts about anal rimming is that anyone and everyone can enjoy it! Regardless of what bits you've got between your legs, everyone's got a ring and a mouth, so they can give or receive whenever the mood strikes.
How to give a rim job
How to Give a Rim Job | What is Rimming? | Analingus
Jess and Annabelle give you their top tips, techniques and toys to make your rimming experience the best yet, nay... EVER!
Before we get stuck into some of our favourite rim job techniques, it really pays to prep your patootie for a bit of oral play to enhance the pleasure for both you and your boo. Here's a few tips to consider before going down on that back passage:
Give it a good clean: Give your bootyhole a good wash with soap and warm water before you let anyone's mouth near it. You can even go one better and use an anal douche to flush out your back passage if it makes you feel more comfortable, but it's not necessary. And if you prefer to go hairless, you might want to consider giving your hind a quick once over with the trimmer before getting into it… You might just be surprised at how much hair is around there.
Use a dental dam: If you or your boo aren't comfortable with direct mouth-on-ring action, you can use a dental dam to create a shield.
Avoid vaginal-oral sex: Although you can give your asspussy a good old wash to freshen up down there, there's no getting around the fact that there's still likely to be bacteria floating around that's 100% not vagina-friendly. Just like you wouldn't slip a peen or other toy around the front after dabbling in anal, the same logic applies to rimming. Don't rim then, give brain.
Keep the lines of communication open: From gaining consent to adjusting your technique so you and your flame get the most out of this intimate experience, communicating is essential for a positive rimming sex experience.
Lube it up: Although lube isn't essential for rimming, it can help to make the experience a whole lot more pleasurable. Try a flavoured lube to turn their tush into an even more tasty treat. Or if you plan on exploring anal penetration with a toy, you'll want to reach for a longer-lasting anal lube.
Assume the position: Just like you have a fave sex possie, you might find that certain positions lend themselves better to rimming too. Some crowd favourites for rimming include the 69, face-sitting or lying on your front with your hips propped up with a pillow or a position enhancer.
Now that you've got the basic prep down pat, it's time to get into doing the deed. Here's how to give a rim job.
1. Up and down
With a flat tongue or pointed tip, gently move your tongue up and down along the sphinctacular. It's up to you whether you take it slow, speed things up or try a combination of speeds.
2. Side to side
This technique is like the up and down, but instead you move your tongue in lateral movements over the brown eye.
3. Full circle rotations
Move your tongue around the anus in a clockwise motion. After you've completed a full rotation or two, go back in an anti-clockwise direction. You can even try your tongue at tiny, little circles using the tip of your tongue or big, wide circles around the general bootyhole area.
4. Semicircle
Have a crack (pun intended) at licking one side of the anus in a half-circle motion and then repeat on the other side.
5. Flat and pointed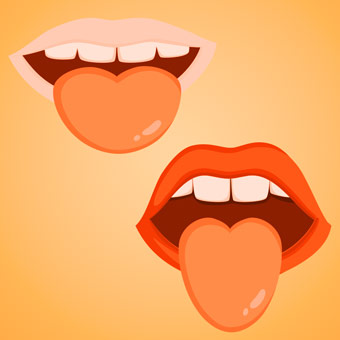 Alternate the way you use your tongue from flat and wide for gentle strokes to stiff and pointed for pinpoint precision.
What other rim job techniques are there?
Once you've got the basic techniques down pat, you can move on to some more styles.
Mix it up
Try using a combination of the different tongue techniques to see what your sidekick enjoys. While some people love the sensations of repetitive movements, others prefer a little more variety, so keep this in mind when you're treating that tushy to a bit of tongue lovin'.
This is where open communication comes in handy. Ask your wooer to signal when they're enjoying something, whether that's saying 'yes' or giving it a score out of 10. You can also look out for other physical cues like noises, gasps, postures and movements.
There's also a whole bunch of other ways to incorporate the pink bits and other body parts to intensify the experience.
Playing the rusty trombone
If you're familiar with rimming, you might have also heard the phrase 'playing the rusty trombone' thrown around too. This technique involves the rim giver reaching around to the pecker and polishing the pole at the same time. As you can imagine, the mouth-to-butt action paired with the wrist movements resembles someone playing a particular brass instrument.
Using your breath
While you're pleasuring your partner's patootie, you can also experiment with a bit of breathwork while you're down there. Try gently blowing hot or cold air onto the ring to intensify the sensations and stimulate those nerve endings. Alternate between licks and blows to up the ante on the pleasure.
Explore the rest of their body
As it turns out, the more time you spend worshipping the anoos, the more toey and sensitive to touch your partner will become. So, a light touch here and a gentle stroke there can really get those tingly feelings flowing. Try these moves the next time you go down on that booty:
Try gently stroking the inner thigh in long, gentle motions

Give those sweet cheeks a gentle squeeze, or if your flame's into something a little harder, a light spanking can be sensational

If your other half has a vulva, try tickling the clit, fingering the foof or lightly pinching the nips
Rimming sex toys
You can even pair sex toys with your next rimming adventure. Use a vibrator or stroker on your boo's bits to help them achieve a glorious, blended finale, or slip in a butt plug after you've finished rimming.
And while rimming is often best enjoyed with your kinky companion, that's not to say you can't indulge in a little solo anal play. There's a whole bunch of sex toys that are designed to imitate the sensations of rimming. Check out the b-Vibe Remote Control Rechargeable Vibrating Rimming Butt Plug, which simulates the sensations of analingus so you can enjoy those feelings while you're flying solo or when you're engaging in oral or penetrative sex.
Take your time
Like all good things in the sack, anal play is a lot more fun and pleasurable when you and your sidekick are completely relaxed and fully aroused. Don't go in for a rimmy, cold. Get that fire in your partner's loins going before you turn your attention to their bootyhole. Many vagina-owners often find rimming more pleasurable once they've already hit the big O. So, take things nice and slow, and if you're on the receiving end, don't be afraid to use your words to tell your partner exactly how you like it.
More Sexual Happiness Advice