Fitting Guide for Corsets
Here's how to know what is a corset, how to measure yourself for a corset, and how to lace a corset, Australia.
Looking for an hourglass shape? Aren't we all. The human eye is drawn to the va-va-voom shape of the hourglass on a beautiful figure, like a moth to flame, like a donger to a vajingo and like a bride to white.
We'd say the item you're probably looking for is a corset, Australia. We reckon it's the sexiest piece of lingerie imaginable - you could easily have corset sex while wearing it. If there was a prize for the most figure-transforming bit of kit you can buy, the Gold Medal would go to the corset costume.
That's because it's designed to reduce your waist, and some of them also boost your boobs. Yay. The humble corset gives you an enviable shape and boosts your confidence at the same time - and we can all agree that's a winning combo in the love shack.
This guide will give you the good oil on how to measure, buy and try a corset. You'll learn how to lace a corset and how to wear a corset. Always remember that our easy 1-year returns policy lets you try as many corsets as you need to in order to find the perfect fit.
But first, check out the video on how to lace a corset, Australia.
Video: How to Measure For and Wear a Corset
Learn how to lace a corset in this video from the Lovehoney lingerie expert.
What is a Corset?
Corsets are all about the hourglass shape. They're designed to improve your posture because they keep you upright, reduce your waist by compressing it and sometimes also boost your Golden Globes. Bonza bewdy.
The essentials of a corset are that it's a form-shaping garment that incorporates plastic or metal 'bones' to give you that sexy hourglass look. Depending on the style and your level of bravery, you can wear it as a top or an undergarment. Great for an erotic fancy-dress event or the boudoir and some raunchy rumpy-pumpy.
Here are a couple of examples to check out. The Black Level PVC Underbust Corset and G-String is an underbust corset for those with proud chesticles, while the Cottelli Black Brocade Lace-Up Corset is an overbust style that covers your sweater puppies.
A corset like this can be just the ticket when you want to cover your tum and rock your curves upstairs or downstairs. Strap one on and get your beau looking at your fave assets - corset sex may follow as night follows day.
A-Z of Corsets
Here are the key terms so you know everything there is to know about what is a corset.
Busk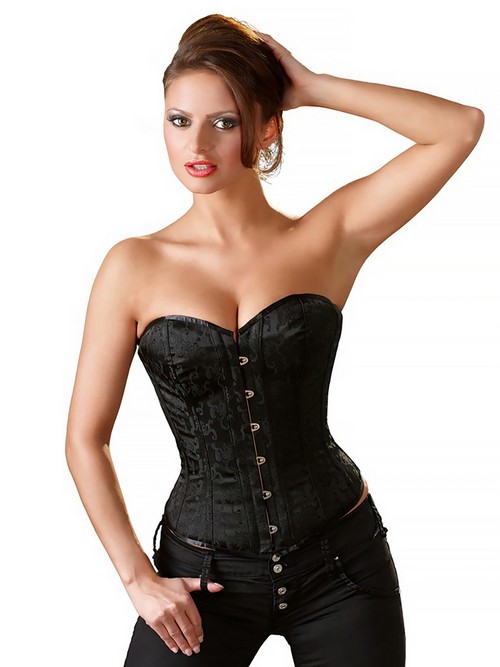 The fastening on the front of a corset with what looks like big hook-and-eye fastenings. It is usually made of metal and should stay firmly closed and reveal no flesh underneath. Until you want to, sister.
The Cottelli Black Brocade Lace-Up Corset shows off the busk on this corset sex dream.
Eyelets
Eyelets are the metal rings through which lacing is threaded. In this bondage corset, there are eyelets front and back for visual interest. If you can peel your eyes off the open cups.
Plastic Boning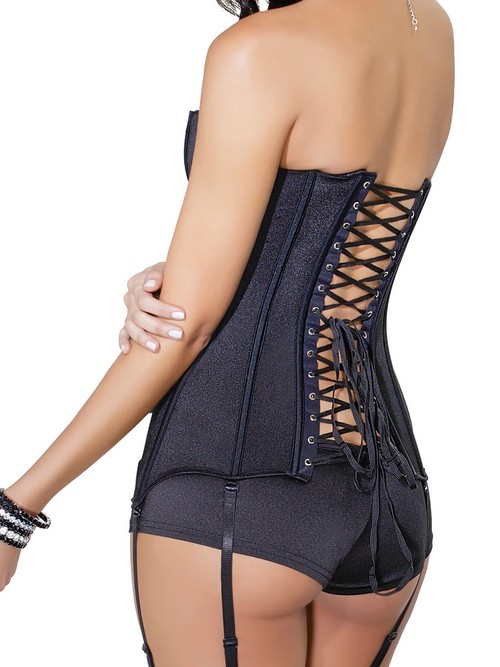 Plastic bones are strips of plastic that are sewn into vertical pockets in basques, bustiers, most corset dresses and some suspender belts and cinchers. Plastic can twist, bend and flex more than steel corset boning, so it won't create an hourglass figure, but it does provide a firm shape to the garment. It should look the same on you as it does when it's on a hanger.
The Coquette Zip Front Longline Corset with Suspenders demonstrates what plastic boning can do to a figure.
Steel Boning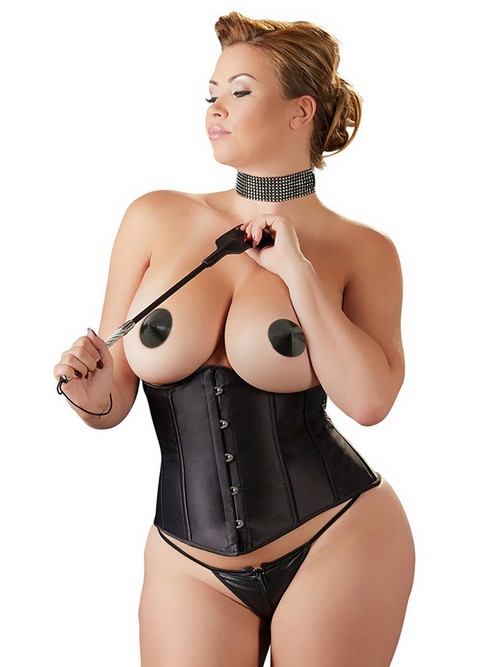 Steel bones are thin strips of metal that are sewn into vertical pockets in the corset. Steel boning shapes the body and is responsible for the waist-reducing effect you get from wearing a corset. Hurray for steel bones, we say.
The Cottelli Plus Size Black Underbust Corset proves what metal bones will do to a corset costume.
How is a Corset measured?
We live in a metric world in Australia, but a corset is measured in inches (e.g. 28, 30, 36, 40) relating to your waist measurement. Go figure. The measurement dictates how many inches the corset measures around the waist when it's fastened.
If a corset is a size 26, the waist of the corset will measure 26 inches when the back is fully closed. Since corsets are designed to reduce your waist size, you need to think ahead about how much smaller your waist can be squeezed.
You want it to do its waist-reducing, hourglass thing - but not so much that you can't breathe when you've got it on. We like our customers alive and feeling sexy, not panting for air. Unless you're having corset sex, of course.
How to Measure Yourself for a Corset
Start by measuring around your natural waist (the smallest section of your torso, directly under the ribs where you're naturally your thinnest).
If you are buying your first corset, your body will not be used to being squeezed into a body-modifying garment, so don't try and squeeze too much.
What your body can handle will depend heavily on what we call your Squish Factor - how easily you can squeeze your waist smaller.
As a first-time corset buyer, you may find it easier to judge your Squish Factor when you're using the tape measure.
Standing straight, place the tape measure around your natural waist and then gently tighten it, squeezing the measurement so it gets smaller. Some gals may find that you can shrink the inches easily, whereas for others it can be harder. Put it down to the Squish Factor.
As a rule of thumb, we reckon your first waist-reducing corset should be between 4 and 6 inches smaller than your own natural waist size. The easier you find it to squeeze yourself in, the easier your waist will reduce in size.
Here's an Example
Say you have a natural waist size of 38 inches.
If you can easily reduce your waist by 4 inches or more with a tape measure, it would be sensible to choose a corset that is more than 4 inches smaller than your own waist as you are likely to be able to reduce your waist quickly with practice. You should therefore go for a 32-inch corset.
If it was difficult to squeeze your waist or you reduced it by less than 4 inches in total, you should buy a 34-inch corset. Your bod may have a different Squish Factor and take longer to adjust to wearing a waist-reducing garment, so more than the 4-inch difference may be a challenge.
How to Lace a Corset
Did you watch the video above?
How to Measure For and Wear a Corset
It shows you exactly how to put on a corset for the first time. Although you can do it on your own with the help of a mirror - why not involve your kinky companion, or maybe your BFF?
We don't want you getting into a tangled mess and worse, maybe warping the bones of the corset.
A partner can help get the tension right at the back with the laces. Following the video's advice will make sure you get the most out of the corset's waist-reducing effect as well as preserving its power for the long term.
Knowing how to tie a corset as well as how to put on a corset will soon be a piece of cake.
How to Remove a Corset
Always fully loosen the corset laces in the back before you unhook the busk in the front, otherwise you may damage it. Once it is loose, you can unclasp the hooks and pins in the front and remove the corset.
How to Season a Corset
A corset is like a new pair of shoes - it's better if you wear it in, or 'season' it, rather than wearing it all day on your first outing.
Try wearing it for an hour a day or so for the first week. The corset will soon adjust to your shape and be very comfy to wear.
You're now ready to rock and roll in the wonderful world of corsets. Why not have a browse through our delicious corsets and treat yourself to an hourglass shape today?
More Sexy Lingerie guides
More Sexual Happiness Advice
You can never know enough about sex, right? Why not join us on our sexploration journey? Stay up to date with the latest advice on our blog, the Lovehoney forum and the weekly Sexual Happiness podcast.