Feeling more pressure than pleasure when it comes to sex? Let's talk about sexual anxiety. In this guide, we explain what causes this kind of anxiety and why people experience it. You'll also find tips on how to manage sexual performance anxiety and relaxed sex positions to help you focus on intimacy rather than performance.
Are you getting knots rather than butterflies in your stomach when sex is on the cards? Do you spend the whole rendezvous worrying about whether you are doing it right or if you're hard enough?
Sex can be one of the most fun and enjoyable activities we as humans can partake in, but expectations to perform in a certain way can cause worry and sometimes stress.
Feeling a little nervous about sex is normal – especially if it's with a new partner or the first time in a while – but what about when it frequently feels more like dread and it all becomes too overwhelming to enjoy? You might be experiencing sexual anxiety.
Sexual anxiety can present itself in several ways, from psychological distress to physical impotence or discomfort. Regardless of your age, gender or relationship status, you can be affected by it. The unfortunate irony is that the act of sex can be an excellent way to reduce stress and anxiety, but when the idea of sex is distressing to you, you're not given the chance to reap the benefits.
If you're currently struggling with sexual anxiety or you know someone who is, this guide is for you. Most people will experience it at some point in their life, so if you're going through it now, you're not alone. There are ways to reduce sexual anxiety and even combat it for good, so your sexual happiness can flourish the way it should.
Sexual anxiety can be defined as feelings of stress, unease, and anxiety surrounding any form of sexual activity or intercourse. It may cause feelings of nervousness or concern when sexual contact is initiated, have you experiencing little to no enjoyment or even pain during sex, or it can make one want to avoid it altogether. As with any anxiety, these feelings are common among many sexual anxiety sufferers, but the severity of these symptoms can vary from person to person.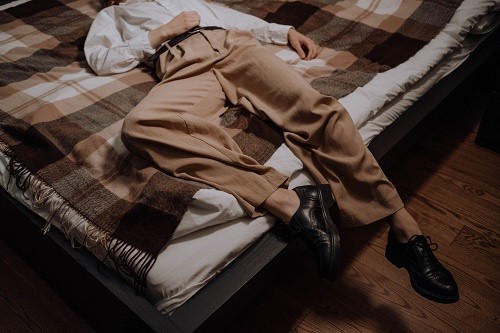 Sexual performance anxiety is usually based on a person's negative thoughts about how well they perform during sex. It affects both sexes but is considered more prevalent in people with penises as it can tie into problems such as erectile dysfunction and premature ejaculation which can cause anxiety for all partners involved when it comes to getting intimate.
Sometimes it can be difficult to register sexual anxiety in ourselves or others, especially if we feel shame around our sex lives or find it uncomfortable to talk about sex in the first place. If you have a sneaking suspicion you might have sexual anxiety, here are a few things to keep an eye out for:
Having little to no interest in sexual activity

Finding it difficult to orgasm during sex

Struggling to have or maintain an erection

Going through the motions before, during and after sex

Worrying about coming too quickly

Not being able to feel sensations

Focussing solely on what you are doing and how the other person is feeling rather than your own pleasure

Faking orgasms

Problems with self-lubrication or symptoms of vaginismus (a condition where the vaginal muscles automatically tighten, making penetration uncomfortable and/or difficult)

Discomfort or pain during sex
It's important to remember that someone who is suffering from sexual anxiety will not necessarily have all these symptoms.
Anxiety can infiltrate every area of our lives, including our sex lives. There are many possible causes of sexual anxiety and for some, there may be more than one reason behind it. Here are a few common reasons for sex anxiety:
Sexual performance issues: Erectile dysfunction, low libido and not being able to orgasm are all factors that can contribute to sexual performance anxiety. Sometimes, simply the fear of not being able to perform can be enough to take us out of the moment and affect our enjoyment of sex.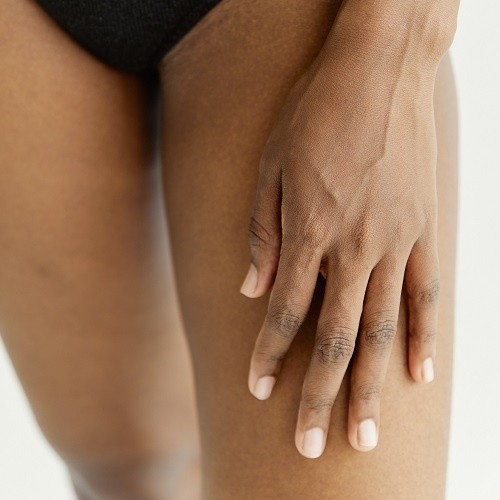 Lack of confidence: When you're getting naked with someone it's normal to feel self-conscious, but issues with body image and confidence can often lead to sexual anxiety. Baring all and participating in this seriously intimate, vulnerable act with a partner can be nerve-wracking enough to overshadow the enjoyment or anticipation of sex.
Previous sexual trauma: Many people who have suffered prior sexual abuse or trauma can develop severe anxiety when it comes to being sexually intimate. It can take a while for them to develop a healthy perception of sex.
Poor self-esteem: When we don't value ourselves as a person, it's hard to feel like we are deserving of any pleasure, including sexual pleasure. This feeling can often be linked to anxiety and can play a part in lower libido.
Relationship problems: When you're having issues with the person you're sleeping with emotionally, mentally or physically, it's almost bound to have you feeling sexually anxious. Your physical intimacy could be affected if you're questioning your attraction or compatibility, if you're arguing a lot, or if you have deep-rooted trust issues.
Anxiety can have a way of making us feel very uncomfortable in our own skin, which is exactly the opposite of how we should be feeling during sex and masturbation. The good news is that there are plenty of steps you can take to reduce sexual anxiety or even get rid of it completely.
By reading this guide, you're already on the right track. Acknowledging how you feel and that there might be a problem can help you understand what might be causing it. Here are our top tips for overcoming sexual performance anxiety and sex-related stress.
1. Be self-aware
Take some time to think about your sexual habits and where your mind goes before, during, and after sex (partnered or solo). Are you in the moment and feeling every touch, lick and stroke? Can you only think about how you look or how your partner is feeling?
Once you start to pick up on how your mind and body are reacting to anything related to sex, you can explore the root of the problem.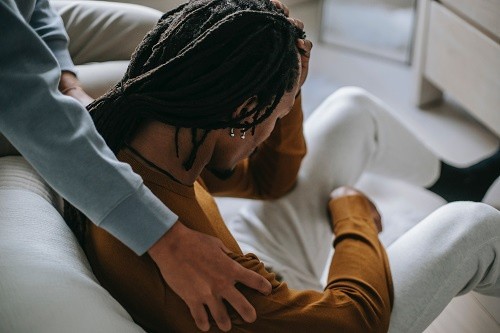 2. Be honest
Sex should make you feel connected, but anxiety can make you feel lonely if you keep it to yourself. Communicate your feelings openly and honestly to your partner (they'll hopefully understand or be able to relate to your feelings) and work out a solution together.
You might find your partner has already sensed your discomfort or disinterest in sex which could be triggering anxiety in them as well, causing the anxious cycle between you to go on and on until one of you opens up. Remember, great sex and true intimacy come from safety and trust in one another.
3. Work on intimacy, not necessarily sex
The last thing anyone wants is for you to force yourself into having sex, and if that means finding other ways to be intimate then so be it! It doesn't mean you can't still have some fun.
Learn about your desires and your partner's and find new ways to experience pleasure. If you're feeling up for it, try on some new lingerie and see what it does for your confidence, introduce sex toys to take the pressure off orgasms, or keep it simple with sensual massage to help you bond with your partner and ease some tension.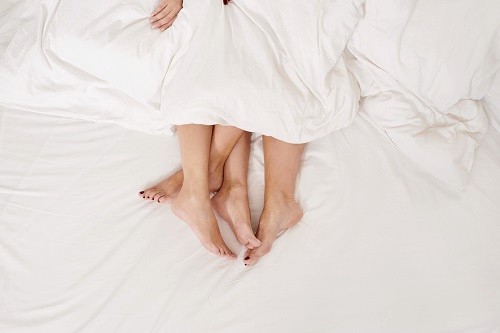 4. Remove any expectations
Sex can be messy and imperfect, and it hardly ever goes as planned. Anxiety during sexual activities often occurs when we overthink things and let our minds race ahead, whether that's to the goal of orgasm, the expectation of penetration or what we are going to do to our partner next.
Slowing down and doing some deep breathing or even meditation before you get frisky can be a good way to get back into your body. During play – while we know it's easier said than done – try to avoid focusing on what's not happening and focus on what is happening. Sex is supposed to be fun – let your mind be at ease and enjoy being in the moment.
5. Talk to a therapist or your doctor
These are just small things you can do to improve your sexual anxiety – they may not necessarily be a cure. If the problem persists, seek professional help from a specialist or your doctor.
Visiting a therapist, doctor or specialist on your own or with a partner can help you identify your triggers and provide you with specific techniques to alleviate your sexual anxiety. Plus, talking through your worries with a professional can also relieve the burden.
If you think your sexual partner or someone else you know may have sexual anxiety, it's important to address it with sensitivity and compassion. Be open and supportive, and listen to their thoughts and feelings without judgement in the same way you'd like them to do for you.
Practising intimacy in a non-sexual way (with hugs, hand holding and foot rubs) is a good way to show your partner you want to be close to them with or without sex. Try to help them feel confident but have patience too – sexual anxiety doesn't always have a quick fix.
Zen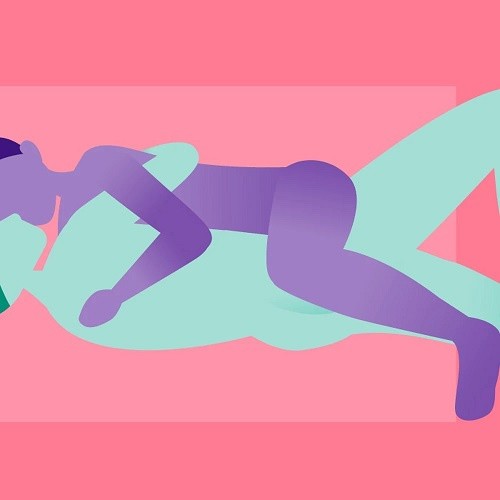 This move is all about slowing things down. On your sides, face-to-face, with your legs intertwined, one of you can penetrate and the other receives. The skin-to-skin contact you get from this position is intimate and calming. As you pick up the pace, you can feel your emotions and pleasure intensify.
Soft Touch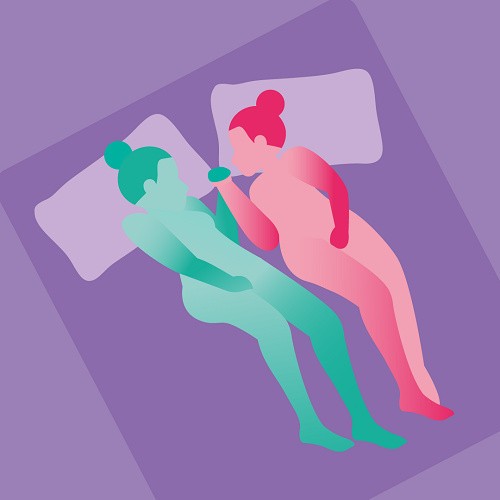 Remind yourself of the enjoyment of sex without too much intensity by trying some mutual masturbation with your partner. In this position, you've each got full control over your own pleasure while still sharing it with your lover. Try it with the lights on or off, look at your partner or don't, touch them or don't - it's completely up to both of you.
Sexy Spoon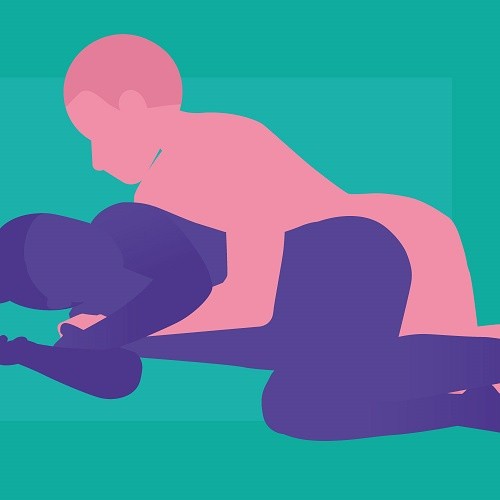 One of the most relaxing sex positions out there, the Spoon is an effortless position that's comforting enough to send you to sleep after. There's no pressure to hold a complex position or worry about what you look like while spooning, so you can focus solely on the pleasure and reduce any tension.
Heart to Heart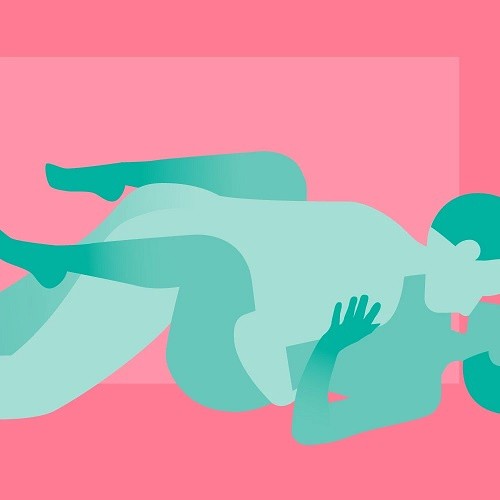 This intimate position is all about connecting with your lover. Like missionary but closer and more emotionally charged, the Heart to Heart will have you gazing into each other's eyes and feeling each other's bodies more intensely whether you are using a strap-on or penis. With this move, you'll feel a stronger connection with your partner, as well as a deeper and longer climax no matter what kind of couple you are.
The Sandwich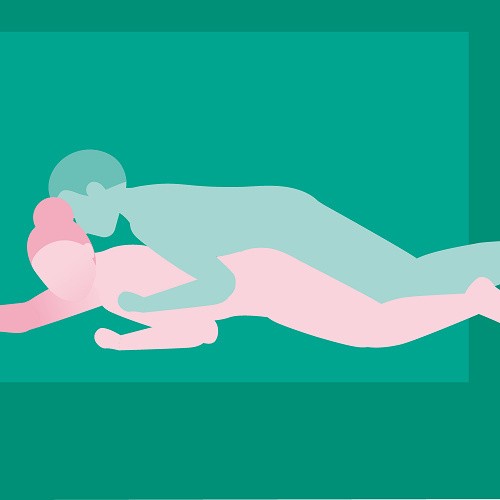 A lot sexier than it sounds, this tasty move involves one partner lying stretched out on their stomach while the other lies flat on top and enters from behind. You're stacked on top of each other in this position and the soothing skin-on-skin contact can quickly make any feelings of anxiety or stress melt away.
How the Lovehoney Health range can help support with sex and anxiety
At Lovehoney, we understand the importance of both physical and mental wellbeing. We recently launched the Lovehoney Health range, featuring products designed especially for alleviating anxiety and stress and contributing to a happier, healthier sex life.
Our range includes penis pumps and boosters to temporarily increase penis size and make an erection last longer, helping to curb sexual performance anxiety. The collection features medical-style dilator kits that can be used to improve comfort and confidence during penetrative sex. There's also kegel exerciser toys to train the pelvic floor muscles which can improve bladder control and increase the intensity of orgasms over time.
Browse our range of sexual wellbeing products below and see your doctor or therapist for more information on how to reduce your sexual anxiety.
From the Lovehoney Health range
More Sexual Happiness Advice
You can never know enough about sex, right? Join us on our sexploration journey via the thriving Lovehoney forum, our weekly Sexual Happiness podcast and our blog.