Wands: The What? The Why? The Where and How?
Massage wand vibrators are packed with some of the most powerful motors on the market for out-of-this-world, all-over-body pleasure.
For many people, they are a staple in the old sex toy box, but for others they are still a mystical mystery.
These days wands come in all shapes, sizes, colours and with an array of features which can be a bit overwhelming if it's your first wand purchase.
So we want to help you by going back to basics in this guide on one of our most popular sex toy, covering all the information we can and answering the most asked magic wand questions.
Ever gazed at your favourite vibrator and wondered what generous genius dreamt up its shape and amazing orgasm-giving powers? Where would we be without our favourite setting, the speed we know will skyrocket us to orgasm, and this hallowed toy we keep on standby by our bedside?
The modern model of wands we know today were born in the late '60s, designed by a Japanese electrical company called Hitachi with the goal of relieving stress and muscle tension. The lengthy, grippable handle, smooth cylindrical head, flexible neck and strong vibrations, the extra pleasures of the wand were abundantly clear despite the brand's denial of its alternative uses.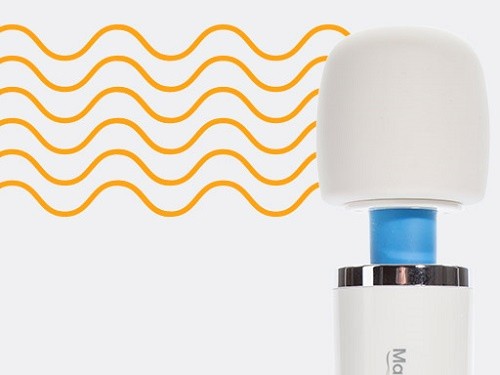 Betty Dodson's Masturbation Masterclass
With the sexual revolution in full swing, one woman was determined to share the real benefits of the wand. Betty Dodson became active in the sex-positive movement in the late '60s and in the '70s she started running Bodysex Workshops in her New York apartment.
The classes were very hands on, and the idea was simple – empower women by sending them on their way with plenty of self-pleasure techniques to try at home.
Dodson bought Hitachi's wands by the caseload from the electrical section of Macy's, using them in her classes and recommending them in her book, Liberating Masturbation.
Samantha's Neck Massager
In 1999, Hitachi issued a statement asserting that the Wand's only use was for health care – which we would argue includes wanking but whatever, Hitachi – however the sexy seed had already been sown.
In 2002, Wands soared in popularity after Sex and the City's Samantha sashayed into an electrical store with a broken massager, closely resembling the magic wand. Despite the shop assistant's insistence that they don't sell vibrators, Samantha ends up schooling the rest of the shoppers about the various "massagers" on sale:
"That one will burn your clit off. Even with ski pants."
Where did we go from there? Onwards and upwards (in power and pride). There's now HEAPS of wands to choose from and no, you don't have to slyly sneak them into your order at the electrical store checkout anymore. Browse here in the comfort of your own home or phone.
Wands are wonderfully versatile and can be used for all sorts of play, from romantic massage right through to kinky fetish fun (and everything in between).
They're a great non-intimidating introduction to bedroom accessories, particularly for couples who'd rather steer clear of anatomical toys and offer loads of play options without looking like a body part.
Plus, with just a couple of attachments in your midst, a wand can bring the pleasure of several toys, in one neat package.
This allows you to explore a whole world of pleasure, without dedicating your whole wardrobe to sexy products. Not that there's anything wrong with that!
There are a million and one ways to use a wand... Give or take.
Here are a few of our favourite ways you can use a wand to spice things up with your partner or on your own.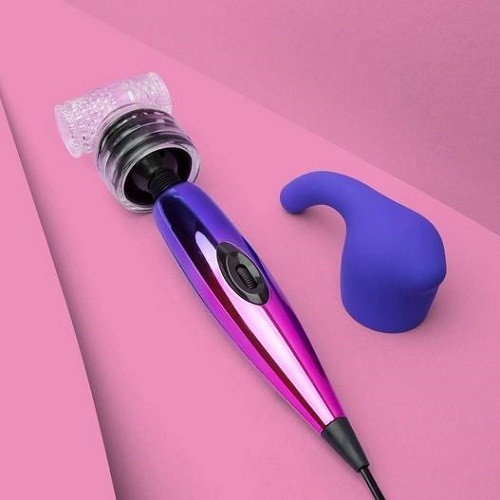 1. Massage
Stroke over shoulders, thighs, buttocks and calves to relieve aches and pains and relax all over. Slather your lover in a sensual massage oil to enhance glide.
2. External
Deliver powerful vibrations to external hot spots like the penis and clitoris. Attachments like the Butterfly and Hummer make your toy more ergonomic.
3. Internal
Blow your minds with attachments that transform your wand into an internal toy. The deluxe G-Spot attachment doubles up as a sensational P-spot pleaser too!
4. During Penetration
For people with clitorises, press the head of your wand against your stomach (below the navel) to massage your G-spot from the outside.
For people with prostates, press the head against your perineum to stimulate your prostate externally.
The Most Powerful Vibrator
Lovehoney Extra Powerful Multispeed Mains Powered Magic Wand Vibrator
In a special edition jet black colour, the Lovehoney Classic Magic Wand is the ultimate wand massager. Or to put it another way, it's a machine for delivering on-demand pleasure. Just read the user reviews below to get a sense of its power to please.
What customers say: "Needed a new wand, glad I made this choice. If I had to describe in one word...EXPLOSIVE"
The Best Rechargeable Wand Vibrator
Lovehoney Desire Luxury Rechargeable Wand Vibrator
$74.97
$149.95
You save:
$74.98 (50%)
Silken silicone envelops the Desire Wand's ergonomic handle and rounded head for unrivalled stimulation. The wand's 5 patterns of waves and pulses, and 10 levels of adjustable intensity, ensure sublime satisfaction is yours to enjoy.
What customers say: "Never used one of these before, but thought I would try it on my girlfriend who has struggled in the orgasm department. OMG! The Wand had an instant impact. So pleased with it. Great for a man to use on himself too!!"
The Best Wand Massager That Isn't Just a Pretty Face
Lovehoney mon ami Silicone Body Wand Massager
$79.96
$99.95
You save:
$19.99 (20%)
The Lovehoney mon ami Body Wand Massager delivers stimulation that will leave your body tingling all over. Powerful, but discreet, with a whisper-quiet motor, this wand delivers intense vibrations from head to toe.
What customers say: "I have had wands before, but this one definitely tops all others I've had before."
The Best Pocket-Rocket Massage Wand
Lovehoney 3-Speed Micro Massage Wand Vibrator
$24.46
$34.95
You save:
$10.49 (30%)
One small wand for man, but one giant leap for pleasure-kind, the Micro Magic Wand is a scaled-down battery-powered version of the massage wand. Perfect for those who can't bear to be parted from their wand, it slips easily into a handbag for nights away.
What customers say: "Don't let the size put you off..this thing packs a punch and gets the job done very quickly ..and very easy to use"
An Affordable Vibrator Backed by Power
Lovehoney Deluxe Rechargeable Mini Massage Wand Vibrator
$41.97
$69.95
You save:
$27.98 (40%)
Want full-throttle fun in a pint-sized package? This mini wand packs all the power of its weightier counterparts, but with portable, slip-in-your-pocket proportions. Great for smoothing over muscles and soothing aches – especially the erotic variety.
What customers say: "Probably the best mini wand out there!!"
1. Are they loud?
Due to the powerful motors needed to provide those intense, rumbly buzzing vibrations, wands will never be silent. You might be able to find quieter toys on the market but we're almost certain your moans won't be as loud.
If you're worried about the noise, you could always try to muffle the sound under your bed blankets or with a cloth. You could also opt for a silicone wand as the softer material will help to conceal the vibrations.
2. Do you use them internally or externally?
Thanks to ingenious attachments like the Lovehoney Deluxe G-spot attachment, you can experience the deep, rumbly vibrations internally too.
3. What's best? A battery or mains-powered or USB rechargeable wand?
Nowadays there's a satisfyingly sizeable selection of ways to power your wand. There's the classic mains-powered method you'll find with wands like the Deluxe; rechargeable via USB with wands like the Mantric; and battery-powered wands, which tend to be smaller, like the Lovehoney 3-Speed Micro Magic Wand Vibrator. Each type of power has its plus sides. The mains-powered wands, for example, tend to be more powerful and obviously won't run out of charge. The USB powered wands are great for use in any room in the house, anywhere in the world, as are the battery operated wands – these however, may not pack the same punch in terms of power.
5. Is a plug-in vibrator safe?
Mains-powered wands are absolutely safe to use so long as they are kept away from water and follow the same safety regulations as any other electrical item.
6. Will its size scare off my partner?
Wands, by nature, are generally bigger vibrators, which can be overwhelming for partners unaccustomed to sex toys. The great thing about wands is that they can be used for all-over-body, deep tissue massage, so if your partner is slightly concerned about the size, offer them a sensual massage and they'll soon come around to the benefits of wands. Then who knows where play will lead?
7. Will it be too big for my genitals?
Wands generally have large, rounded heads that are capable of transmitting the super powerful vibrations through their entire surface area. Many will have flexible necks enabling you to angle the heads exactly where you want them, and provide all-engulfing pleasure for your sweet spots. If you're looking for power but more localised stimulation, the Lovehoney X Love Not War Koi Sustainable Rechargeable Wand Vibrator or the Happy Rabbit Wand are great options as their heads have a smaller circumference.
8. Is the material important?
For some, material can make or break a person's enjoyment of a sex toy. Our selection of wands are made from a variety of different materials so you have plenty of choice depending on your preference. Wand heads made of silicone will offer a silky soft, luxurious finish, while those made from plastic with be seriously smooth and glide against the skin effortlessly. The material used for the wand's body will also make a difference to your experience. Some, like the desire wand, have a smooth silicone body, whereas others are made from plastics or aluminium titanium alloy, like the Doxy Die Cast, which are much heavier.
As with all sex toys, the material that your wand is made from will determine which lubricants you can use with it. Check out our Lubricant Buyer's Guide for more information about lube and material compatibility.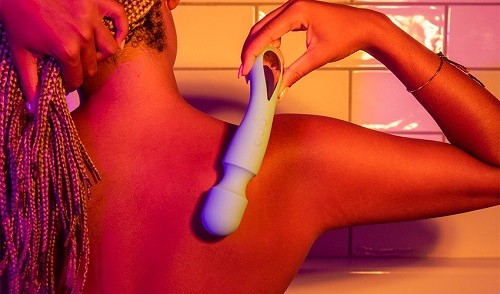 9. Are they easy to clean?
Some wands like the Lovehoney mon ami are completely waterproof so cleaning (and playing in the shower) is a cinch. For other kinds of wands, the smooth heads – some of which are removable – make them as easy to clean.
If your wand has grooves, it may need a little bit more attention to get into those areas. A good quality sex toy cleaner and a cloth should be sufficient to clean the head. Never immerse a non-waterproof wand in water.
10. Are they worth the money?
Wands vary in price so thankfully you'll be able to pick one up according to your budget. As for if they're worth it… well, they're one of the most popular items we sell and we have thousands of happy customer reviews for you to read to help make that decision.
11. Will they make my hand go numb?
At most it may tingle for a while but any fears of it going numb and falling off are unsubstantiated.
Most magic wands have their motor in the head (rather than the handle) which helps keep the power right where you need it (and away from the areas you don't!)
12. Can I use one while having sex?
Yah-ha! You can use it in loads of different ways – check out our upcoming wand guide for making the most out of your magical new chum.
13. Can something so powerful be used for foreplay?
nods
The wand is one of the most versatile toys around. See above guide for loads of handy tips for using your wand.
14. Are the cables long enough to use them comfortably?
The idea of a plug-in cable can put a lot of people off if they don't have a plug socket near the bed. Luckily the lovehoney wands come with a cable length of 1.8m and 2.4m so you'll have freedom to roam if you wish.
15. So it's great for a clitoris, but what about a penis?
Everyone is different. Many people with a penis love the sensations of vibrations held against the frenulum or shaft, whilst others prefer to aim the head of their wand at their perineum for deep P-spot pleasure. For those who like penile stimulation, take a look at our penis-specific attachments, like this Hummer which is a textured stroker for even more explosive sensations.
16. Will I become desensitised?
Any repeated or prolonged stimulation could result in some loss of sensation regardless of the type of stimulation, however this is not permanent and your body will soon return to normal.
Our Top Wand Vibrator Picks
Why our customers love Lovehoney