Beginner's Guide to Clone-A-Willy
Just add water (and your penis!) to create a shaking take on your very own member. The Clone-A-Willy features everything you need to reproduce your old fella in vibrator form.
While your first impression might be to dismiss it as a giggle-at-first-sight gimmick, there are several unique benefits of a Clone-A-Willy kit. Loved by couples all over the world, this is the kind of grown-up plaster of Paris that'll leave you ready to rumble.
Couples in long-distance relationships find that a portable penis can be the perfect gift for lonesome pleasure sessions. Therefore, getting it on with a penis you know (and miss) is just what the love doctor ordered.
But let's not forget, the process of making the vibrator together is a right laugh. It's hard not to giggle when you're moulding a brand new willy.
What's Included in the Clone-A-Willy Moulding Kit
Cloning your penis isn't that difficult - it just requires a bit of preparation and precision when it comes to timing.
But, before you dive penis first into the moulding clay, be sure to read your instructional pamphlet and check you have all your ingredients.
Each kit should contain:
Moulding tube

Specially timed moulding powder

Two-part platinum-cure silicone mix

Single-speed vibrating unit

Full instructions

Thermometer

Stirring stick
You'll also need to provide:
Measuring jug

Large mixing bowl

Clean disposable container

Spatula

Timer

Pair of scissors

Tape

4-inch square of cardboard with a cut-out X in the middle

Pen
This is also the ideal time to give your pubes a trim. The mixture is very sticky and won't be good if you get your hair stuck in it.
"What it doesn't say on the box, which we should have figured anyway really, was that pubic hair should be clipped or shaved off before moulding - result of not doing this was that his hair had become trapped in the now set liquid mould!" - Miss Kitty
How to Use Your Clone-A-Willy Moulding Kit
Stand to Attention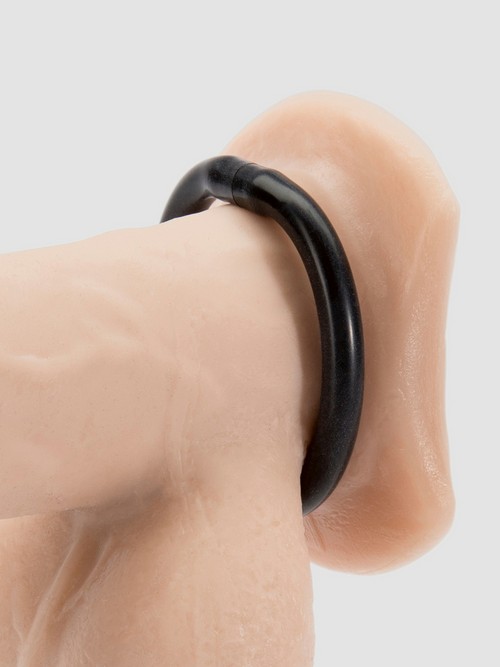 Because every erection is a blessing, make sure you're modelling around a good hard dick. Get your penis erect and measure it against the long moulding tube.
Then, mark the length with a pen and cut the tube along the mark. Use the tape to line the tube so it's comfortable against your skin.
Alright, we get it, keeping an erection under pressure is harder than it looks (excuse the pun), so you might want to add a cock ring into the mix. Clone-A-Willy's Easily Removable Cock Ring is perfect. Not only does it boost your erection strength, but it's also super easy to take off when you're done moulding.
"After some careful preparation and reviewing the enclosed instruction, we set to work. We made use of a cock ring to maximise his erection whilst the mould was setting and this worked a treat." - MrandMrsHorny
Mix it Up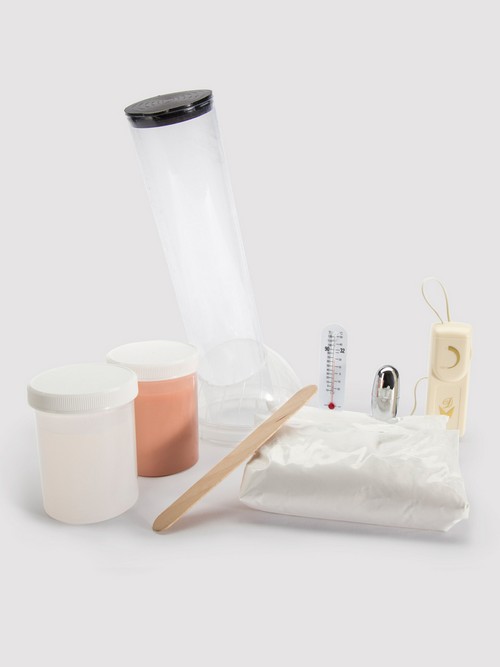 Time to get messy. Measure out 414ml of hot water and pour it into the bowl. Then, using your thermometer, make sure the water is exactly 32°C (90°F). You might have to wait for your water to cool to the right temperature, so talk amongst yourselves.
When your water is ready, put one minute on your timer and pour your moulding powder into the bowl. Using your spatula, stir the mixture for about 30 seconds - don't over-mix.
Pop Him In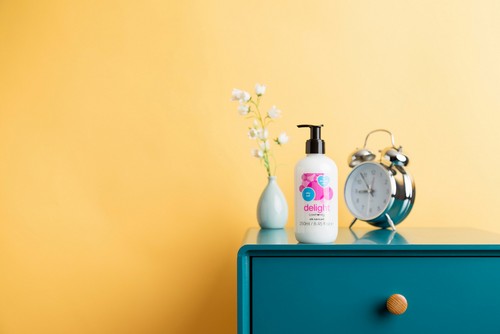 Pour your ooey, gooey mixture into your measuring tube and pop your old fella in too. Press the tube against your body. The mixture can take up to four minutes to set, so take a load off and get comfy.
Once the mould has solidified, gently pop your penis out and leave the mould to set for four hours.
Add that Buzz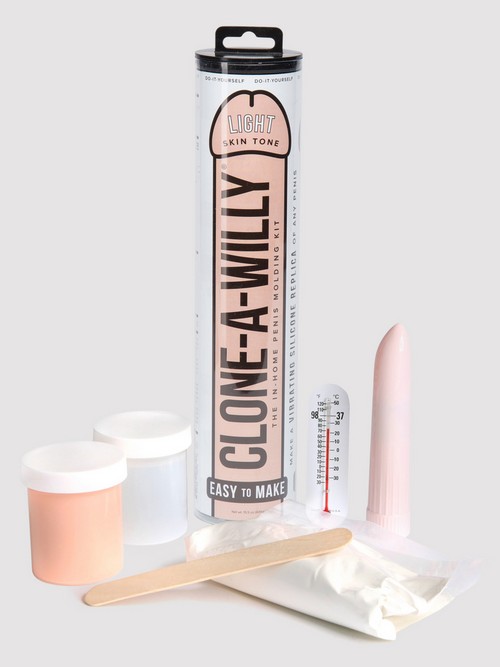 Using your wooden stirrer, pour the two jars of silicone into your disposable container and mix. Pour out any water that may have snuck into your penis mould and carefully pour in the silicone mixture.
Take the vibrator provided, and push it through the X in the cardboard square, making sure the screw cap is still visible. Then, insert the vibrator into the silicone mixture, using the cardboard to support it and hold it in place.
Keep the moulding tube upright and leave the vibe in place for 24 hours.
"The clone of my fiance brought me to orgasm in pretty much record time. Just like my fiance." - Miss Kitty
Marvel at Your Creation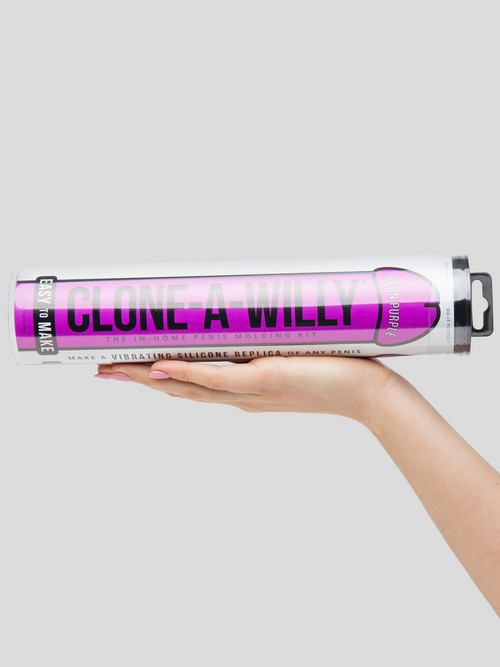 When the silicone is set fully, remove the cardboard and gently pull out your brand new vibrator. You can trim off any excess silicone from around the base if needed.
To get that bad boy buzzing, insert one AA battery into the base and your mini-me is born.
For the very best results, pair your homemade vibrator with plenty of water-based lube.
"I have since had my first business trip away and have had an excellent review of my clone - apparently he worked amazingly and had her cumming in no time!" - Bad Karma
Pretty Peckers
Just like real ding-a-lings, Clone-A-Willy comes in many different colours. After a pink-coloured pecker? No wukkas. Keen to see a cloned copy of your cock in a glow-in-the-dark lime green? You bet we can make that happen too. Flesh-coloured Clone-A-Willy's are ideal if you're aiming to exactly replicate the real thing. You can also get Clone-A-Willy kits with or without balls - whatever tickles your fancy:
Build a Clone Army!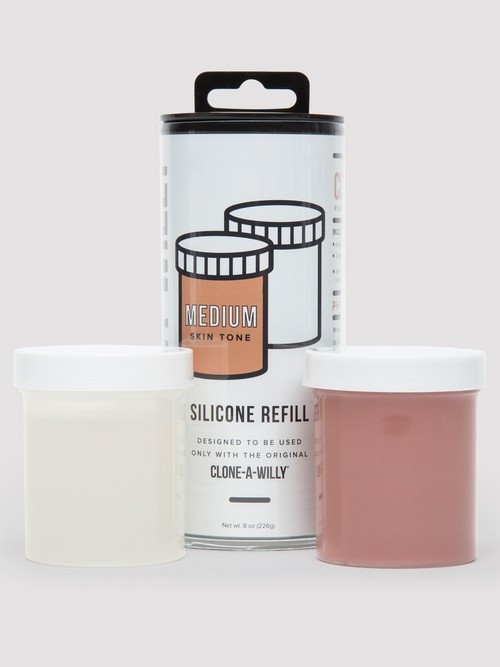 If you're keen to make a few copies, or there a multiple peens you'd like to immortalise in silicone forever, Lovehoney also sells Clone-A-Willy refills. There's no end to how many cocks can clone. Heck, you can even make like the Sith and build a whole clone army if you like. Except instead of Storm Troopers, you'll have an army of willies.
Simple Step-by-Step Clone-A-Willy Instructions
Step 1: Set up camp in the shower. The moulding tube has to be cut 1.5 cm longer than the length of your partner's erection, so do this beforehand to save ourselves the added time pressure. A great option is to pop some porn on your phone and stick it in the shower caddy. This pops the adult entertainment right at eye level, leaving your penis-owning-pal to tune out and enjoy themselves while you get ready to DIY.
Step 2: Get your water to the ideal temp - just over 32 degrees celsius. For most of us here in Aus, this is possible with just your normal hot water tap. Once you've got the temp sorted, pour 1¾ cup of water into a mixing bowl and double-check the temperature. If your mixture isn't 32 degrees, it may set too quickly or not at all.
Step 3: When you're satisfied with the temperature of the water, pour it into the mixing bowl and get your mixing spoon and timer ready.
Step 4: Set a timer for 45 seconds and hit 'Start'. The instructions say to start the timer and then cut open the bag of moulding powder - follow the directions to the letter here. Pour the powder into the water and mix for the remainder of the 45 seconds. The mixture may still look lumpy at this point, kind of like pancake batter that needs more work. This is to be expected, so don't panic.
Step 5: As soon as your 45 seconds is over, pour the mixture quickly into the tube. Here's where the owner of your favourite willy comes in! Your partner has to insert their erection into the tube whilst standing, holding the tube tightly against their body at a 45-degree angle to ensure that the liquid moulding powder doesn't dribble out before it has a chance to set. The best way to achieve this is for your plaything to bend their knees a little, angle their penis into the moulding tube and then quickly straighten up, holding the tube at the open end and pressing it firmly against their body. You may lose a little bit of the liquid in the process, but as long as you don't lose a significant amount you should be fine.
Step 6: Your penis-having pal has to maintain their erection and hold the tube in place for at least two minutes. They should be able to feel the liquid starting to solidify. After two minutes have passed, touch the outside of the moulding tube to test if the liquid has hardened. If it has, slowly remove the shlong from the mould. If this is proving to be a little more difficult than expected, don't stress. Petroleum jelly can be a lifesaver here. Let the mould air-dry until the next day.
Step 7: After leaving the mould to get dry overnight, grab a disposable container - an old water bottle cut in half or a Chinese takeaway container works perfectly - and mix the two jars of silicone together. The stirring stick that comes with the kit is really handy, not only for mixing but also for scraping every last bit of the silicone out of the tubs. Every drop counts! Check to make sure that no water had collected in the bottom of our mould overnight (if you find water pooling in yours, tip it out) and then slowly pour the silicone mixture into the mould.
Step 8: Cut a 10 cm cardboard square (your Lovehoney packaging should do the trick) and cut an 'X' into its centre. Stick the vibrator through the 'X' until only the screw cap is left sticking out.
Step 9: Lower the vibrator into the centre of the silicone-filled mould. The cardboard square acts as a lid that keeps you from losing the vibrator altogether. A bit of the silicone may come up and spill over the sides, but that's no worries. In fact, that's displacement for you. Remember that you came here to clone a willy, not to defy physics.
Step 10: Once 24 hours has passed, ease the clone out of its mould and hey presto, you're now the proud owner of an exact clone of your favourite penis.
More of a visual learner? This video on our Lovehoney YouTube channel will help talk you through the steps:
Make Your Own Vibrator With Clone-A-Willy
Join Annabelle and Brenna as they show you how to make your very own vibrator, using a Clone-A-Willy moulding kit.
Clone A Willy Review
This erotic DIY project may seem intimidating at first, but building a carbon copy of your lover's penis is definitely worth following the step-by-step instructions to a tee.
Forget feeling uncertain about whether a toy is going to feel good or not. With Clone-A-Willy, you can have a vibrating dildo modelled on your most favourite willy in the world.
First Impressions
Your kit comes packaged up neatly inside a plastic cylinder. Here's the first crucial piece of information - you're going to need that plastic cylinder during the cloning process. Open the kit by snipping the thin plastic seal that's wrapped around the black lid - don't hack into the plastic cylinder with scissors or you won't be able to get your clone on! The kit comes with the main things you will need to create your Clone-A-Willy except 1 x AA battery, which you'll need to buy separately.
Tips and Tricks
Timing is everything, so have all the equipment set up and close to hand before you begin. You don't want to be running around looking for a mixing bowl while your lover is left standing there, dong in hand. Just like any type of craft, this DIY dildo has the potential to get messy. Do it in the bathroom or somewhere with a tiled floor so that clean-up is easy.
Your partner is going to have to maintain an erection for two minutes. You may think "So? Two minutes is nothing!", but what you don't understand is that they'll have to maintain an erection for two minutes whilst submerging their peen in liquid moulding powder. If that's an average Friday night for you two, it won't be a problem, but the rest of us may find it helpful to use a cock ring, penis pump or some porn. A cock ring is also a great option to help maintain that stimulus package.
If your partner is a hairy hunk, a quick trim or some petroleum jelly on the pubes is a good idea before you start.
The moulding tube has to be held firmly against the body, so it's best to put sticky tape or masking tape over the edge of the cut plastic.
Final Thoughts
This cloning process may seem complicated and a lot of work for a vibrating dildo, but it's well worth the effort. Not only is this a flirtatious bit of X-rated craft you can do as a couple, you end up with a completely customised dildo at the end of it. It's the perfect toy for those in a long-distance relationship, or anyone that loves having natural penetrative sex with their partner but has always felt a bit wary of dildos.
You can buy extra bags of moulding powder and your mould is reusable, so you can make a whole army of vibrating willies in an array of different colours if you're so inclined. Too often we forget that sex is a messy, humorous experience - the Clone-A-Willy Vibrator Moulding Kit is a great reminder.
More Sexual Happiness Advice
You can never know enough about sex, right? Why not join us on our sexploration journey? Stay up to date with the latest advice on our blog, the Lovehoney forum and the weekly Sexual Happiness podcast.