Beginner's Guide to Anal Vibrators
Treat your tushy to some new vibes courtesy of an anal vibrator. If you're not sure how to get your booty buzzin', check out our beginner's guide to anal vibrators.
Nothing quite compares to the feeling of penetrating your peachy cheeks. Not only is your anoos packed full of sensitive nerve endings but the feeling of fullness that comes with anal action is second to none.
If you're new to anal play, then anal vibrators are an excellent way to explore your derrière. The sensation from the vibrator is perfect for adding another dimension to your butt loving. One of the best things about choosing a vibrating butt toy is that you can use it while it's switched on or off, almost like a two-for-one deal! So whether you're after a butt plug, anal beads, dildo or a prostate massager, choose from the static or vibrating options available.
Putting a vibrator in your booty for the first time can be a bit daunting, which is why we've put together this nifty guide to help you get to know your nipsy as well as some of our best anal vibrators.
Before getting started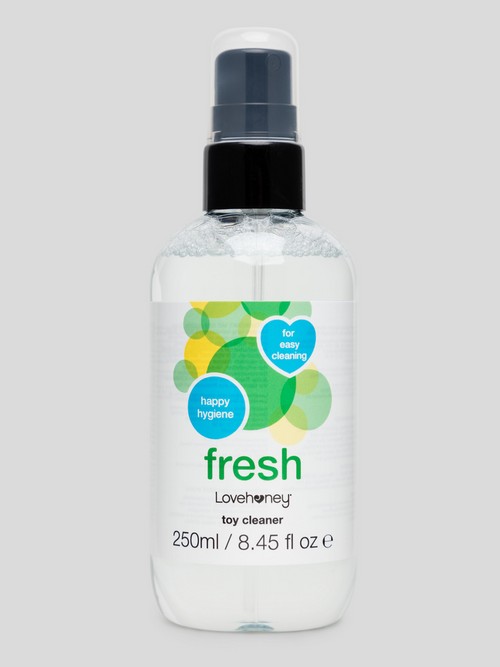 Before you go sticking anything up your clacker, whether you're using your digits or an anal sex toy, it's important to be aware of the bum fun basics so you can have the best anal experience.
First things first, make sure that anything going near your hump is nice and clean before insertion. Give your hands a wash in hot soapy water or clean your toys with a sex toy cleaner like the Lovehoney Fresh Toy Cleaner. The same goes once you've wrapped up your spelunking session. Clean your toys before you hygienically store them between use.
If you or your kinky companion have a coochie, avoid swapping toys from the bootyhole and V without giving them a good wash and disinfecting in between. The lady garden is incredibly delicate and bacteria from your bot-bot can easily disrupt the balance. Same goes for fingies - it can be fun getting dirty in the bedroom, but make sure to keep the tools clean.
When you're ready to open the stage door, it's important to relax your whole body. Avoid tensing the muscles around your booty or you could be in for an uncomfortable experience. Indulging in a bit of foreplay or anal massage is a great way to start your tushy sesh.
As is the case whenever you get between the sheets with your partner, communication is key! Whether you're anally penetrating your boo or they've got a backstage pass to your booty, keep the conversation open so that you both figure out what tickles your tush.
Lastly, don't forget the anal lube! Going deep diving dry is a big no-no, so make sure you, your partner or your toy are lubed up before making it to fifth base. As you might be aware from our other advice guides or your impeccable knowledge, the bot-bot isn't self-lubricating, so it needs a helping hand in that department. Keep reading for our anal lube recommendations.
What to look for in an Anal Vibrator?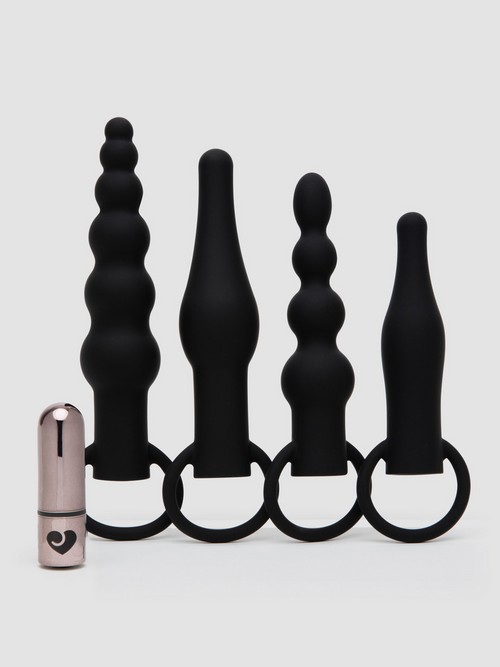 Now that we've covered the basics, what makes for the best anal vibrator? There're a few key characteristics to keep your eyes peeled for when on the hunt for a great beginners booty vibe.
Firstly, look out for materials that are designed to slide straight in. Silky, body-safe silicone will slip perfectly into your peach, making it an ideal choice for beginners.
Always invest in anal toys with a flared base or finger loop. Your little bootyhole has some surprisingly strong pulling power. So, to avoid an embarrassing trip to the hospital, it's important to use toys with a base that's wider than the shaft to reduce the risk of it getting sucked straight in.
Like all good things in life, it's worth taking it easy and starting small before working your way up to something bigger. Opt for more slender toys, or better yet invest in a kit that includes toys of varying sizes like the Lovehoney The Booty Bunch Rechargeable Vibrating Butt Plug Set (5 Piece) so you can work your way up in your own time.
Best Anal Vibrators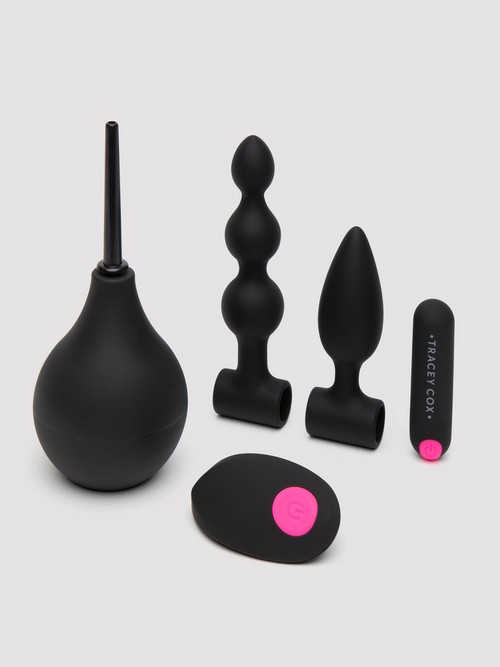 So, you're keen to add an anal vibe to your collection but you're overwhelmed by choice. We got you! Lovehoney is home to a huge range of vibes designed just for your bot-bot, and there's even a section dedicated to beginner's anal toys.
Keep it simple with the BASICS Vibrating Butt Plug 3.5 Inch. This petite plug is super slimline. The broad T-bar base keeps it firmly in place while providing some sweet perineum stimulation at the same time. Turn on the vibe for a truly thrilling anal experience or remove it completely and use it to stimulate other areas of the body.
If you'd rather explore a range of toys and sensations, the Tracey Cox Supersex Anal Beginner's Kit (4 Piece) is ideal for booty beginners and couple's looking to expand their sexual horizons together.
Complete with four anal basics, this kit includes a butt plug, anal beads, remote control, rechargable bullet vibrator and anal douche for a quick clean before getting down to business. Both the butt plug and anal beads feature a flared base to stop them from travelling north and a space to insert the bullet vibe for added buzz. Cycle through the 3 speeds and 7 vibrational patterns of the vibe using the handy remote.
Best male Anal Vibrator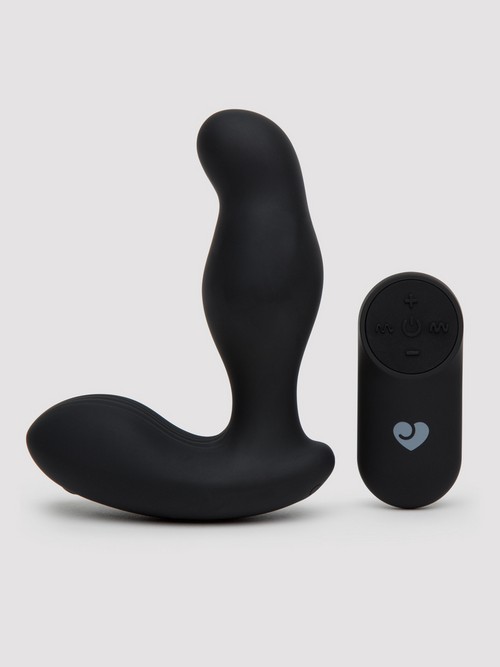 One of the great things about anal vibes is that anyone can enjoy them! Whether you're rocking a rod or packing a V, everyone can partake in a bit of booty play.
Lovehoney has a whole range dedicated to male prostate massagers and toys that are designed to hit that special place. Prostate massagers often feature a tapered tip for easy insertion and a curved shaft that seeks out your hidden walnut - just make sure you position the tip to hit the wall facing your stomach to give you the best chance of landing where you want it.
When it comes to prostate stimulators, you'd be forgiven for thinking that a slimmer toy makes for the best male anal vibrator. Butt in actual fact, a toy with a wider tip will give you a better chance of hitting the sweet spot. Plus, a smaller tip can also mean more intense sensations, which could be a bit much if you're just starting out.
The Lovehoney High Roller Remote Control Rotating Prostate Massager is one of the best male anal vibrators for beginners going. The curved shaft and bulbous tip are designed to hit your hidden walnut while using a circular, stroking motion to massage the prostate to explosive result.
Tips for finding your P-spot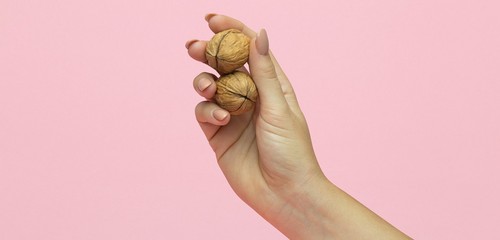 For people with peckers, anal exploration is one of the best ways to hit the elusive P-spot. The P-spot, or prostate, is a small, walnut-shaped gland between the bladder and rectum. As you guessed it, the easiest way to access this sweet spot is up your clacker.
The P-spot is essentially the equivalent to the G-spot for penis owners. It's jam packed full of nerve endings and when stimulated correctly, it can lead to more intense orgasms. If you're really lucky, you might even blow your wad without having to touch your joystick. Regular prostate stimulation can also help you achieve dry orgasms, which is key to achieving the elusive male multiple orgasm.
The key to prostate massage is to relax, which is often easier said than done. So if you're new to prostate play, it might be easier to explore your hump by yourself so you can figure out exactly what you like before getting your playmate involved. Start small with a lubed up finger. Give yourself some lovin' with a massage around your dot and perineum before working your way up to slipping it in.
To find your P-spot, you'll want to work your way up about an inch or two on the wall facing your stomach. You'll be looking for a round, raised area with a slightly firmer texture than the surrounding walls. You'll know it once you hit it. When you touch down on the P-spot, have a play around and see what movements get your heart racing. If you find this type of prostate massage is getting you toey, it could be time to introduce your boo or a toy into the mix.
As is the case with anything you slip up your posterior, make sure you use toys with flared bases so they don't get lost in the void. There's nothing like a trip to emergency to put you off experimenting with anal play for good. Some flared bases also feature different textures for a bit of extra stimulation on the perineum and surrounding areas.
Best Anal Lubricant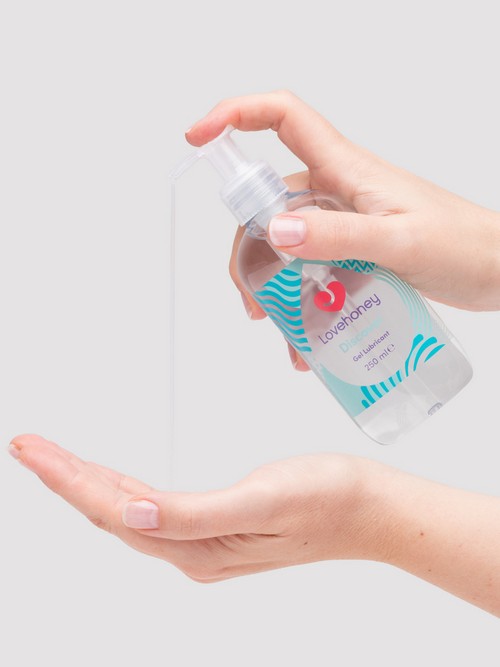 When it comes to the stage door, using a good quality anal lubricant is an absolute must. Anal lubes are specially formulated to be thicker and longer-lasting that regular lubricants, making them perfect for anal play. Most anal lubes are water-based, so they're safe for use with condoms and all anal sex toys, including silicone toys.
A crowd fave here are Lovehoney for some backdoor loving is the Lovehoney Discover Water-Based Anal Lubricant. This water-based formula is long-lasting and provides that extra glide you need when indulging in a bit of spelunking.
If you're looking for a little extra sensation, why not try a warming lube?! The System JO H2O Warming Anal Lubricant is thick, long-lasting and has been formulated with peppermint for a few extra tingles.
After all is said and done, we recommend giving your nifties a good clean before your next storing away for the next session. Read our guide How to Clean Sex Toys for some top tips on tidying and keeping your tushies safe.
Time to vibe!
More Sexual Happiness Advice
You can never know enough about sex, right? Why not join us on our sexploration journey? Stay up to date with the latest advice on our blog, the Lovehoney forum and the weekly Sexual Happiness podcast.