How to Use Massage Candles and Bondage Candles
Discover how to use massage oil candles and how to add bondage candles to your BDSM play.
Wondering how to spice up your sex life? Massage candles are a great way to add a new dimension to your relationship.
Massage is one of the most intimate kinds of touch, a terrific way to relax your body, calm your mind and get aroused by erotic touch.
As a bonus, massage candles can bring couples closer together through increased intimacy.
But, it's important right up front to make clear that there are two types of adult play candles - one is the massage oil candle and the other is the bondage candle. They are very different and understanding the distinction is important for your safety as well as your pleasure.
So check out this helpful video first.
Video: Bondage Candles vs Massage Candles
Discover the difference between bondage candles and massage candles with Jess Wilde in this handy video guide.
What is a Massage Candle?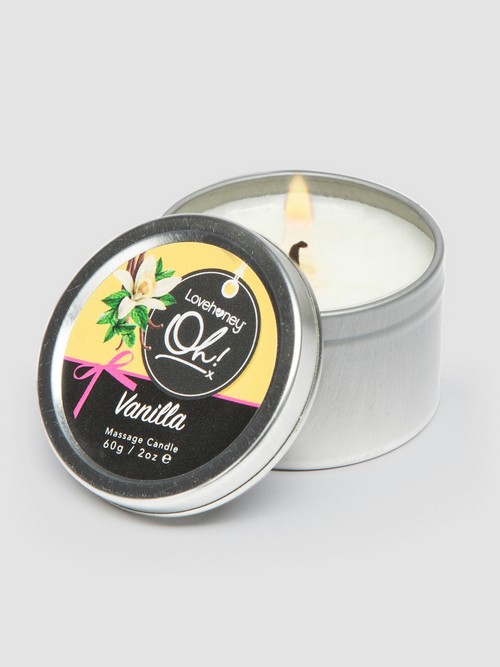 Massage candles - or massage oil candles - come packaged in a metal or plastic container like a tealight. They are made from a blend of all-natural waxes and oils like soy wax and shea butter, with added seductive fragrances.
Most are lickable, too. Great for oral foreplay. Like this Lovehoney Oh! Vanilla Lickable Massage Candle.
The key design of massage candles is that they are solid at room temperature and formulated to melt at a low, body-safe temperature. Think of them as a massage oil waiting to be released by the warmth of a candle flame. Then they can be drizzled over your partner as a warm massage oil that nourishes and hydrates the skin.
Says one Lovehoney customer:
"Once the wax had melted and left it for long enough, we experimented with massage. It honestly felt so good. Not too hot but enough to feel and give a good massage oil base." - DragonDan
How to use a Massage Candle
Blow the flame out and test the temperature of the pool of oil with your finger. When it feels warm but not too hot, you're good to go.
You can drizzle or drip the sensuous warm oil directly onto your partner's body. Or if you want, pour it into the palm of your hand and then start your massage. The nourishing natural waxes and oils will soothe your lover as you work it into their body. Huzzah.
"The smell is amazing, just like Bakewell tart! My hubby really enjoyed this candle. It feels nice on your skin and not sticky, just yummy." - Suztan
The candle will cool and set, ready for your next sensual sesh. Or why not re-light it for your turn to be massaged? Ask and ye shall receive.
Don't use as Lube
A word of caution - massage candles should not be used as a personal lubricant or with condoms.
For a massage lotion that can be used as a lube and is condom-safe, you can use Durex Play 2 in 1 Massage Soothing Personal Lubricant or even silicone lube.
Recommended Massage Candles + Oils
What is a Bondage Candle?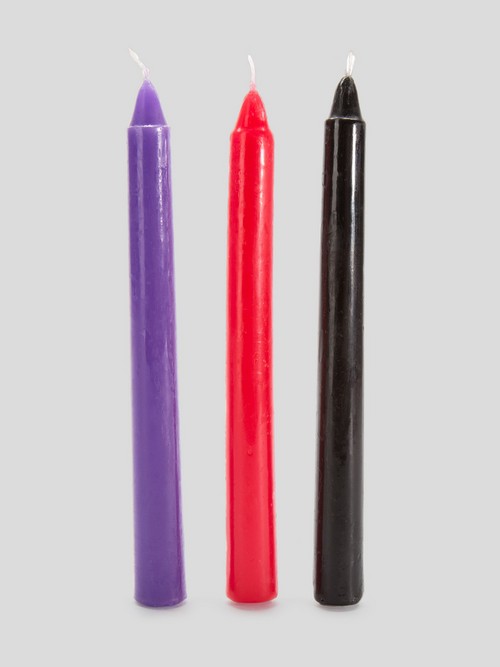 Bondage candles look like normal long, narrow household candles. They have a higher melting point than massage oil candles.
As a form of erotic BDSM play, a bondage candle allows you to drip hot wax on to your partner.
The exquisite heat and delicious sensations of hot wax make the skin ultra-sensitive, leaving your partner ready for all kinds of sexual fun and games.
Is it safe?
It's vital that you and your partner are safe and comfortable during hot wax play. No one wants to be burned or left with lasting damage.
Never use ordinary household candles in BDSM play. They have a high melting point and wax from these can burn or scald the skin.
We recommend specially designed bondage candles. These have a much lower melting point, will last for ages and they smell and taste great. Bear in mind that they will still produce a slight pang of pain that feels absolutely fantastic to the bondage lover.
Once you've mastered massage candles, you'll be able to move onto hotter wax candles like the Bondage Boutique Hot Stuff Foreplay Dripping Candles. They burn at a higher temperature so the sensation is more intense. These candles can produce a more painful sting, and even leave marks on the skin that last for 24 - 48 hours after play.
Top tips for hot wax play
There are a few important safety points to remember when enjoying hot wax play, especially if you're the one dripping the wax.
Plastic fantastic
To avoid getting wax all over your things, get your better half to lie down on a plastic sheet before you start your wax fun.
Test the temp
Test the temperature on yourself first. Drip the wax onto your body part at the speed you'll be dripping it on your kinky companion. Okay? Proceed.
Remember 18 inches
Hold the candle 18 inches away from the skin. This distance lets the wax cool as it drops. You can always move the candle closer or further away, depending on how they feel.
Growing sensitivity
The skin will become more sensitive with each drop of wax. Great for edge play, but make sure to keep checking how your partner feels and stop when it gets too much.
Safe words
Safe words are super-important for BDSM play. Ask your boo to use the traffic lights system. Green means 'feels great, keeping going', yellow means 'caution, it's starting to hurt' and red means 'stop right now'.
What areas of the body can I use hot wax on?
Hot wax feels good on less sensitive areas, like the shoulders and back. Start with those. All going well, try the more sensitive areas such as the stomach, bottom and thighs.
Do avoid the face of your beloved. The wax can leave temporary red marks where the skin is warmed and stimulated and no one wants that on their face. Be especially careful with delicate areas such as the nipples, genitals and navel. We do not recommend wax on these areas, unless you are experienced with hot wax play.
When hot wax cools, it's tough to remove from fabrics or hair, so unless you're hoping to give your partner a fair old waxing, make sure to shave first and aim the wax carefully.
Need more help?
You can Contact Customer Care, who will be able to help you find a massage candle. You can email, telephone or live chat to an experienced advisor 24 hours a day, 7 days a week.
The other great place to look for people's advice on foreplay and massage candles is on the Lovehoney Forum, where our community is on hand to give their opinions and tips.