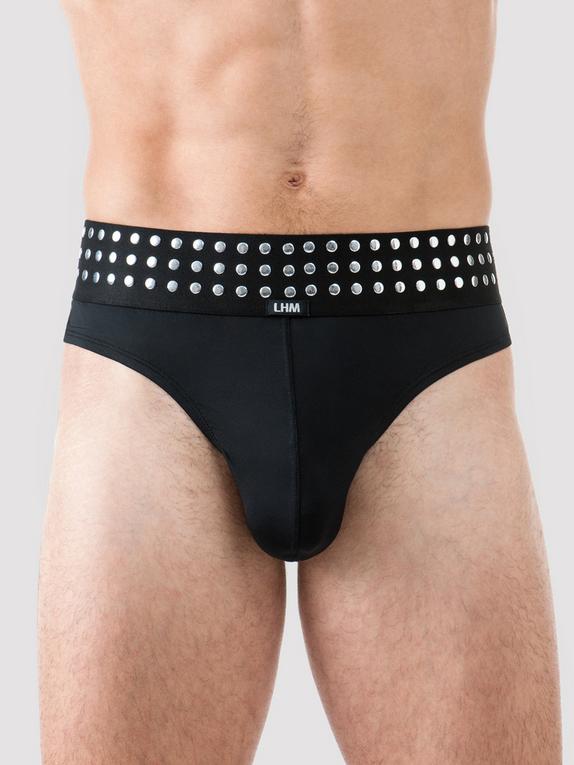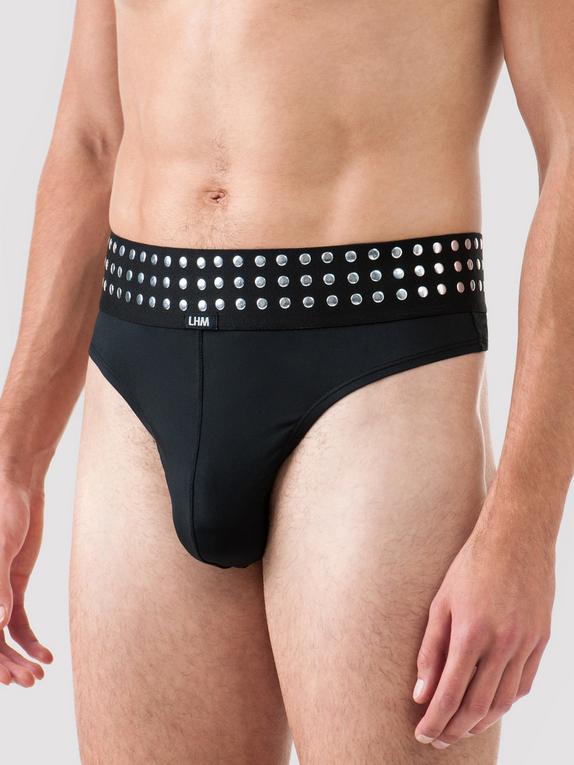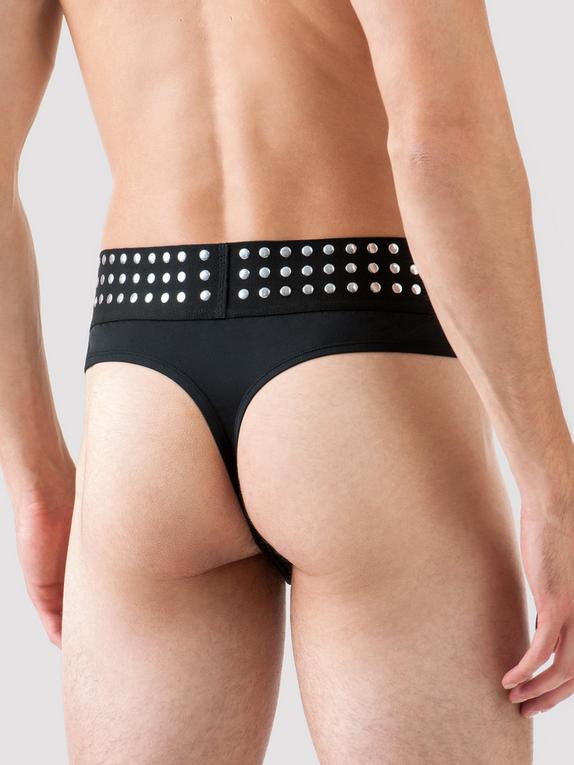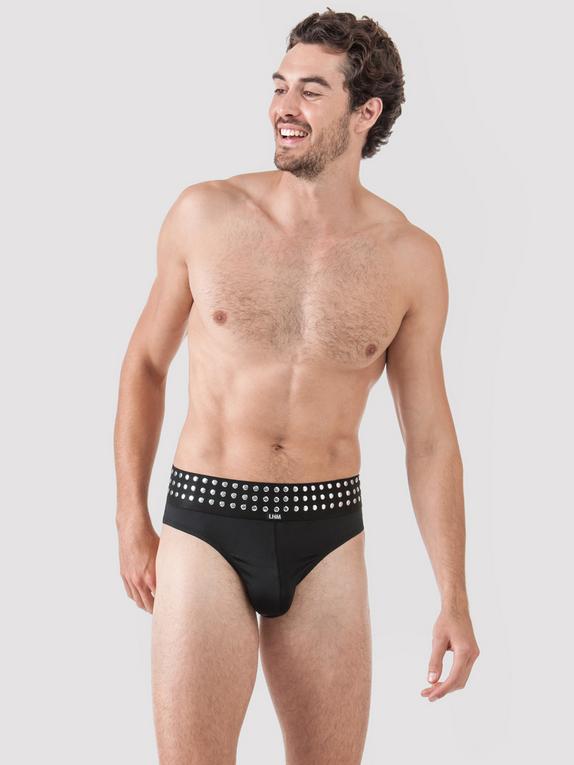 LHM Black Studded Thong
Last chance! This product is not going to be re-stocked!
Black men's thong with studded waistband for rock'n'roll vibes
Soft stretch fabric shows off your package
Thong back frames your butt
Wide waistband features silver stud detail
Comfortable enough to be worn under clothes
If your front man's in need of a swagger boost, treat him to the amped-up sex appeal of this studded black thong. It's soft enough to comfortably hug your Joe Cock-er, but the triple stud waistband adds a rock'n'roll edge.
Sexy Lingerie Buyer's Guides
Buy the perfect sexy lingerie as a treat for yourself or your partner with the help of our Sexy Lingerie Guides.
Frequently bought together
Popular combos for more sexy fun
Customer reviews
3.9
3.9 star rating
12 Reviews
3.9
3.9 star rating
12 Reviews
Thank you for posting a review!
We really appreciate your opinion and hope to see you again soon.
Thank you for posting a review!
Your review was sent successfully and is now waiting for our staff to publish it.
Search reviews
5.0 star rating

4.0 star rating

3.0 star rating

2.0 star rating

1.0 star rating
Great addition
Review by Once S. on 30 Dec 2020
review stating Great addition
Product arrived as expected. Fully sealed, tags attached etc. Arrived early which was a big shock to say it was Christmas week and delays were being reported. Once unpackaged I could wait to get it on. The material, like neoprene, is so soft against the skin and of high quality - there is no risk of rips or tears after a few wears. Word of caution though allow the thong to climatise to room temperature before putting it straight on from delivery, the studs were freezing. The band is thicker than expected being 6cm thick. Not sure if it is my experience with thongs but does allow the gent to dress to any particular side either. However, this holds everything in place as good underwear should.You are limited to the bedroom to wed this either, it is comfortable enough to wear for extended periods so everyday use wouldn't be a problem.Overall, a great product and great addition to any collection or underwear drawer.
Pros:
Soft, strong material. Confidence wearing it.
Bottom Line:
Great addition to any collection or for a first time wearer.
On LHM Black Studded Thong
M
Maximus76
3.0 star rating
Not what the doctor ordered
Review by Maximus76 on 8 Dec 2020
review stating Not what the doctor ordered
Looked at these when ordering off the black friday sale deal, and thought I'd throw them in, so my wife could see me in something sexy for once.Got the parcel and looked forward to trying these on, as they looked and felt great, but once I had them on I was a little disappointed, there just so unflattering, I've lost alot of weight over the last few months but these were so thin coming over the crotch to your belly you could see little pockets of fat sticking out, if I had a flat belly and 6 pack this wouldn't be a problem, but I dont. And then turning around in them again they just didn't look good at all, and neither did it feel good to feel bad either, so great pants, quality great and look and feel great, sadly for me, just not what the doctor ordered, so I may just use them as a covid mask instead!
Pros:
Quality, studs, feel.
Cons:
To thin on the front exposed too much flabby skin.
On LHM Black Studded Thong
A definite
Review by Mk1982 on 7 Nov 2020
review stating A definite
I bought this to add to my collection and was not disappointed. Very tight and high rise so even for a man, can hold in if your carry a bit of lockdown belly. The front is comfortable and very well fitting and the back isn't to chunky so fits nicely between the cheeks. In all, a very well made thong and would definitely recommend to buy.
Cons:
Noting not to like with this one.
Bottom Line:
Again, well fitting and very comfortable.
On LHM Black Studded Thong
D
Dancingboy
1.0 star rating
Not great but okay
Review by Dancingboy on 31 Oct 2020
review stating Not great but okay
Being a thong lover for around 15 years and wearing them daily I think of myself as a bit of a thong expert.I purchased they on sale for around £3 and if I had paid full price I'd be extremely unhappy! They are great quality but the fit just isn't right at all, they sit very high and have a thick uncomfortable t back that doesn't sit nicely.The problem is you can find cheaper, comfier and the same quality underwear online from abroad for much less. Love honey need to really spend some time looking into the male underwear market as here in the UK it isn't being exploited like it could be.
Cons:
The fit and everything.
Bottom Line:
Good try but a fail.
On LHM Black Studded Thong
S
Sexpositive B.
5.0 star rating
Finally - men's underwear that is FUN-to-wear!
Review by Sexpositive B. on 28 Oct 2020
review stating Finally - men's underwear that is FUN-to-wear!
As soon as I found out that Lovehoney had a WHOLE LINE of sexy men's underwear, I knew that my boyfriend and I absolutely had to give at least one pair a very thorough try! Luckily, my anniversary with the S.O. was quickly coming up, which meant that I had the perfect excuse for purchasing these as a cheeky (and very, very sexy) gift for my partner (and for my own enjoyment too, of course) ;)As usual with Lovehoney, the speed of the delivery astounded me (it somehow managed to arrive 2 days earlier than the estimated date, in the midst of a global pandemic!), and the highly discreet packaging always makes me smile. All orders come in a plain brown box which would never be suspected of holding anything interesting... if only it weren't given away by the sheer glee on my face! As soon as it slid through the door, I pounced on it and began unwrapping the box with the excitement of a child on Christmas morning, only to be... mildly disappointed.I was greeted by a individually-wrapped, synthetic-smelling pair of underwear, held in a cheap plastic sachet which looked more akin to the wrapper of a Happy Meal toy than the envelope of a sexy garment. Thankfully, I didn't let this deter me, as this would have been a mistake - other than this slight packaging flaw, and a synthetic smell which can easily be washed away, everything else about this thong is wonderful!The first characteristic that I noted was the cold feel of the studs (which felt like genuine metal) and their flatness. Although some people might have been disappointed by this, I personally found the flat surface of the studs really great, as this means that the thong will be much easier to wear under everyday clothes, without having random protrusions showing through one's jeans. The fabric itself is a little bit thin and synthetic, but I do really like this aspect, as I find that it shows off my man's outline more :) Some people might question the durability of the garment because of this fabric choice, but, especially when considering the price, I still think that the quality of this thong is very high. I did also notice that there was no double-lining of fabric, though the thong part was a bit thicker due to the stitching, but this makes the garment particularly lightweight, which is something that my partner and I found very positive when he was wearing it during those sweaty nights! ;)With regards to the design, I found that the LHM logo on the front looked a bit bigger than on the photographs, but it was certainly not too large as to completely overwhelm the overall look. The pouch at the front also appeared very accommodating (my boyfriend later confirmed this), and the thong part of the underwear is quite wide, which I find really contributes to the durability of the garment. My S.O. also found it very comfortable, even though this was the first thong that he had ever worn, which in itself is a brilliant testimony to Lovehoney and their design!Size-wise, I bought the side S/M (my boyfriend usually wears size medium), and they fit him wonderfully. The un-stretched circumference of the waistband is 74cm, but its elastic nature means that there is some give, if your hips are particularly wide. I was also impressed by the surprisingly strong nature of the elastic waistband, which feels very high in quality. I did worry slightly about the elastic when looking at the photos beforehand, because the band looked quite wide, so I thought that the underwear would be high-waisted, and would show above jeans. However, I shouldn't have doubted anything, because in reality they fit my partner just right, and can be concealed by his regular-rise jeans, as well as looking oh so gorgeous on!Now for the visuals, and, ladies and gentlemen, it is a sight to behold! The pouch envelops your man perfectly, holding him in a sexy, studded embrace, and the revealing nature of the thong provides a beautiful view of his butt as well. All I can say is that, if you have never tried men's thongs before, I cannot recommend this one enough! Lovehoney has, once again, made magic happen.Overall, with something as sexy as this, I really couldn't be more desperate to 'get in his pants' ;)
Pros:
Studded and sexy: a true success!
Cons:
The individual plastic wrapping of the underwear looks quite cheap.
Bottom Line:
With this thong, you can never go wrong! ;)
On LHM Black Studded Thong