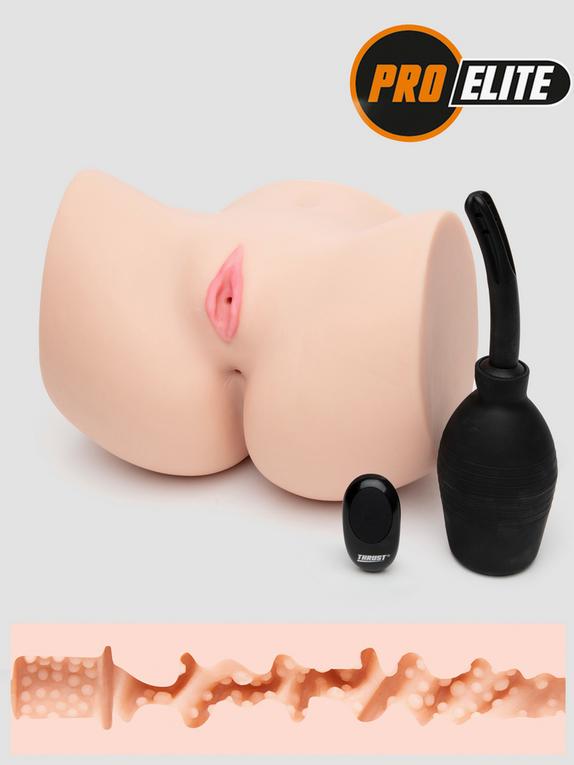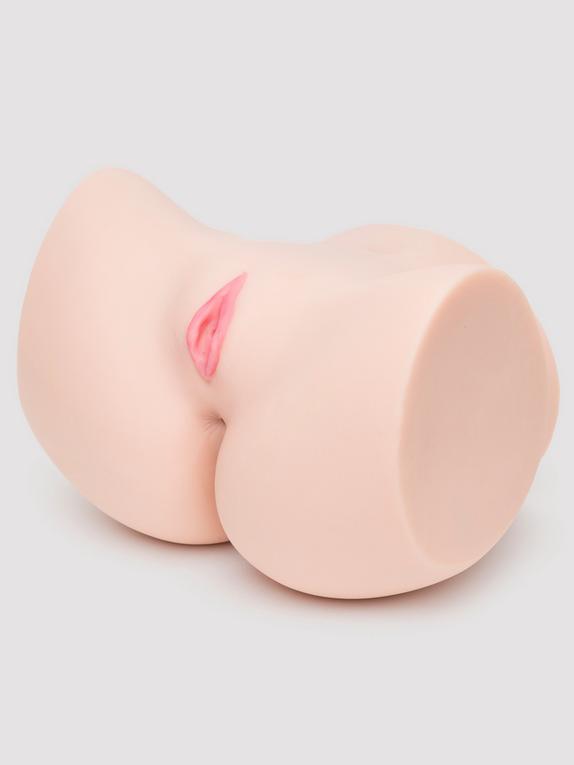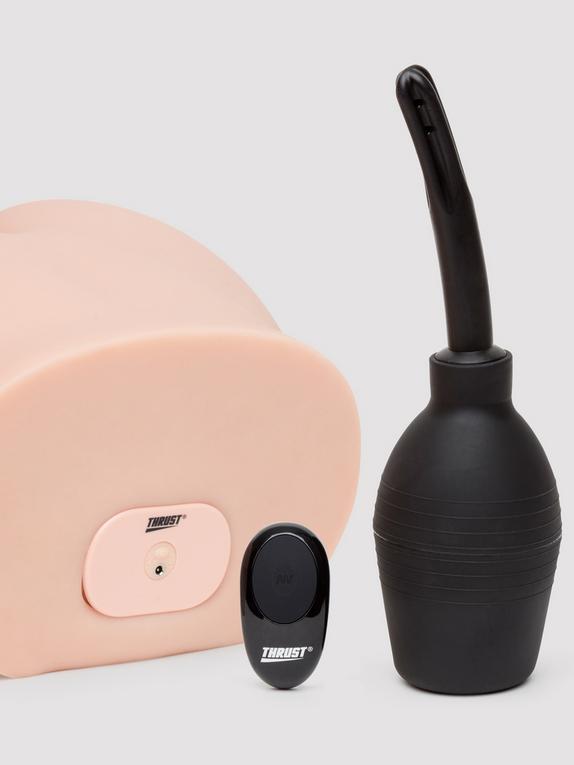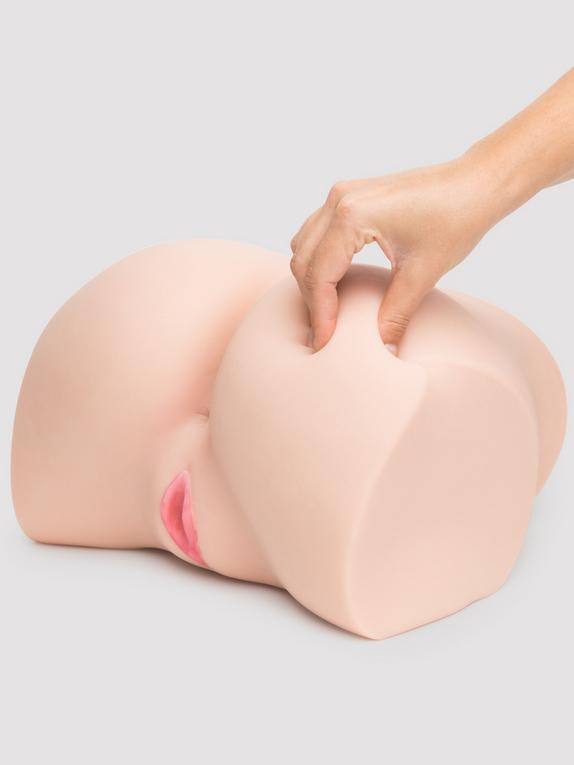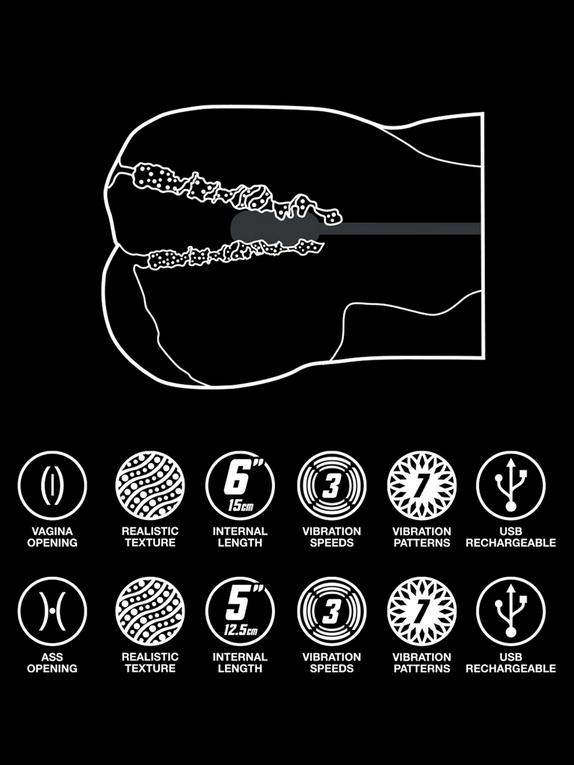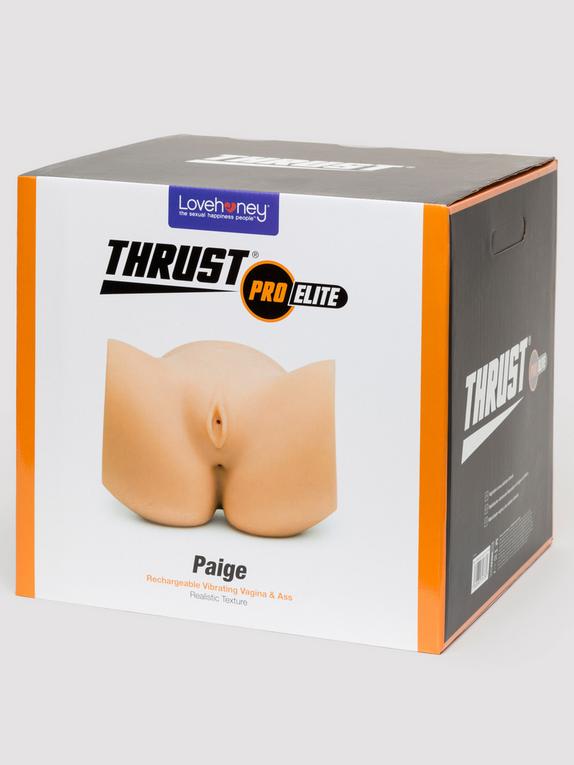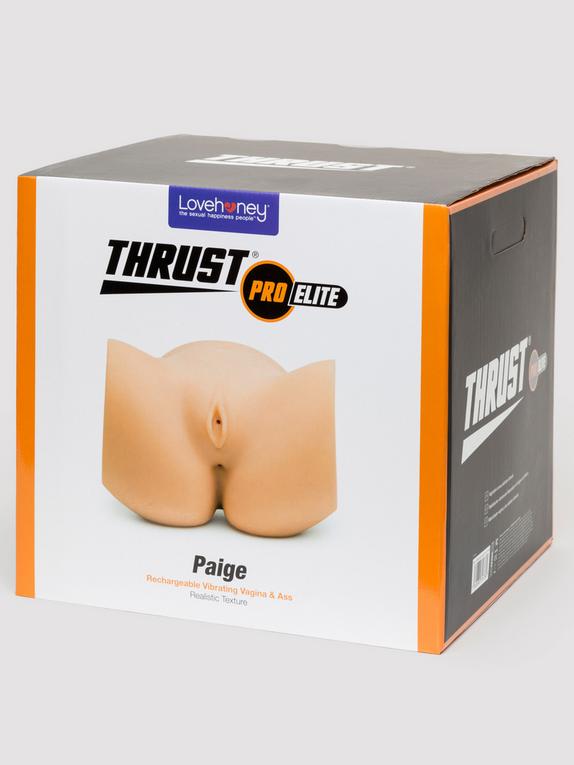 THRUST Pro Elite Paige Rechargeable Vibrating Masturbator 7kg
Last chance! This product is not going to be re-stocked!
Uber-authentic vagina and ass masturbator for solo or threesome fantasy couple's play
Includes a removable pair of 10 function bullet vibrators for added sensations
Squeezable cheeks and super-soft, supple skin to grab hold of
Tight ass and intricately detailed vagina opening welcome you in for a sensational ride
Heavily textured canals provide intense sensations with every thrust
Meet Paige, your voluptuous, spread-eagled new playmate. With authentic weight and bounce, Paige lets you choose between her pretty pussy and intense ass. Just power up the bullet vibrators, and explore her veritable treasure trove of ecstasies.

Both entrances are tight and realistic, leading to independent canals lined with lifelike textures – the vagina is 6 inches deep and the ass is 5 inches deep.

Paige comes with a powerful 10 function double bullet vibrator, which you can slot into the masturbator to add extra thrills to your play. Plus, it's remote control operated and rechargeable for pleasure whenever you please.

Paige is splashproof and comes with a douche for easy cleaning after play. Be sure to dust her with renewer powder after use to keep her feeling supple.

Ladies love lubricant, so slather Paige with loads of water-based lubricant before play.
Essential Info

Allergens: Phthalate-Free
Features: Rechargeable , Remote Controlled
Waterproof: Splashproof

Power and Speed

Battery Info: 1 x CR2032 battery (remote)
Power Type: Rechargeable
Run Time: 55 minutes
Vibration speed: Speeds and patterns

How it Measures Up

Internal Length: 6 inches
Opening: Vagina & Butt

How it Feels
Male Sex Toy Advice
Unlock unlimited pleasure by consulting our Male Sex Toys guides, written to help you choose and use the best Male Sex Toy for you.
Frequently bought together
Popular combos for more sexy fun
Customer reviews
4.8
4.8 star rating
4 Reviews
4.8
4.8 star rating
4 Reviews
Thank you for posting a review!
We really appreciate your opinion and hope to see you again soon.
Thank you for posting a review!
Your review was sent successfully and is now waiting for our staff to publish it.
Search reviews
5.0 star rating

4.0 star rating

3.0 star rating

2.0 star rating

1.0 star rating
great to use, effort to maintain
Review by Verified-Customer on 29 Mar 2021
review stating great to use, effort to maintain
First of all it is heavier than you're expecting, which is good for keeping it stationary when you use it, this is definitely something you need to take care of, and unfortunately the manufacturer doesn't provide care instructions past "clean after use and use our product on the 'skin' to help it remain suple" and you have to delve into some forums to find out details on to care for it. it's lovely to use, and feels pretty great, but I've yet to find a way to dry the inside if it entirely other than aiming the holes down and letting gravity drain it
Pros:
looks and feels good, good weight to it
Cons:
hard to dry, minimal care instructions
Bottom Line:
good product
On THRUST Pro Elite Paige Rechargeable Vibrating Masturbator 7kg
Have a go on the THRUST Pro
Review by Cloud-Berry on 18 Jul 2020
review stating Have a go on the THRUST Pro
I usually write these reviews but my Husband took over for this one.
What can I say about this little gem. Arrived in the usual secure packaging from Lovehoney.
I was amazed at the size of the box, & how heavy it was when delivered. I knew the weight of the THRUST Pro Elite Paige Masturbator was 7kg, but it felt heavier. It turned out that the weight wasn`t an issue, far from it On opening the box I couldn`t help thinking how well thought out the foam packaging was.
The top section held THRUST Pro Elite whilst the bottom had the remote, douche & charging pack.
After a thorough read of the instruction booklet supplied removed the blanking plug from the back of the Thrust Pro.
It needs a full charge before use, this gives around 55 minutes of play when done so. The look feel of the Thrust pro is real as it gets.
I plugged in the two charging wires on the charging unit to the Thrust pro & charged until ready it`s to use.
I set up the remote control unit, pressed the on/off button on the rear of the Thrust Pro.
Tried the different settings on the remote & settled with the fastest vibrating function for my first try.
I found the the heaviness was an asset, laid it on the bed it didn`t move at all. The silicone type material it`s made from helps to hold it in place when using. Used a little lube which was more than enough for me.
Missionary, stood up & doggy position were all tried on my first encounter, I thoroughly enjoyed everyone of the positions too.
My heart started racing once I slid inside the Trust & I came quickly, probably due to the fact that the vibrating sensations were so different from & real vagina & anus.
Once inside you can`t feel the vibrating bullets protrude at all which is great for stimulation.
There are obviously many more ways you can enjoy this wonderful product.
The vagina felt so real & very inviting the ass was nice & tight as expected. The bullets are hidden inside of the Thrust Pro so no need to remove the when you are finished & get round to cleaning it. Washing with mild soap & water are the correct way to do this.
The douche is a very handy tool to flush & cleanse the Thrust on the inside of the vaginal & anal canals. You will need to buy some renewing powder too to keep the Thrust feeling as new as the day you got it.
This keeps the silicone in the vaginal & anal canals plus the exterior silicone in tip top condition, Just need to remove the charging plug when packing away & re-install the blanking plug. Iv`e kept the box it came in. In my opinion is the best way to store it keeps it clean & free from dust, not that it will collect dust due to the amount of time it has been used since my first encounter.
On THRUST Pro Elite Paige Rechargeable Vibrating Masturbator 7kg
Time to get your Thrust on
Review by Sampaul29 on 13 Jul 2020
review stating Time to get your Thrust on
I received the THRUST Pro Elite Paige Rechargeable Vibrating Masturbator 7kg to test in return for an honest review.
The delivery arrived in the normal discreet sturdy packaging you expect from Lovehoney within the advised timescales.
Upon taking delivery and opening of the outer box you notice it comes in the distinctive Thrust branded packaging in the relevant colour of the product band, orange being for the Pro Elite band of toys.
Once I had opened the main product packaging there is another small box in the top compartment that contains the charge lead, douche for easy cleaning of the masturbator, remote control and rechargeable battery pack which you will need to make sure is fully charged prior to use.
Next was onto the Masturbator itself.
The first thing I noticed was that it was much bigger than I was expecting and with it being 7kg it gives the opinion that you are getting a high end product and with how weighted it is in comparison to smaller masturbators that I have purchased in the past.
On first view, each of the entrances are very enticing and tight looking and couldn't wait to get started.
When the battery pack was fully charged it was finally time to test it out so the first thing to do was to remove the cover where the battery pack sits and then connect the battery up to the 2 x cables in the compartment however; I must admit that this was not very easy as there didn't seem to be much give on the cables and I didn't want to pull them too much in case they broke.
Once this was done it was then time to lube up each of the entrances and test them out.
I found that you could use it hands free if you had it just at the right height and therefore you could have pleasure in being able to take control of the remote to test each of the vibration settings to find the one that best suits you or cycle through them until your hearts content or for full control you could take grip of the masturbator however you like and have a full on pleasurable time whether you choose either the ass or vaginal entrance. Each entrance fit snug around my manhood and with them having a realistic texture this gives the added sensation and heightens the arousal. It was also very easy to get yourself into the position that you are after. The masturbator is made to a very high standard and looks to be able to take whether you like it rough, gentle or like a rampant rabbit but I'll leave that down to the individual user to decide for themselves!! All in all this is definitely the best Masturbator that I have owned so far and cannot rate this highly enough. It is worth the price that you would pay for it so take the plunge into Paige's enticing tight ass and vagina and Thrust away.
On THRUST Pro Elite Paige Rechargeable Vibrating Masturbator 7kg
An absolute delight
Review by PermanentlyAroused on 9 Jul 2020
review stating An absolute delight
Ok, first up, this masturbator is big and heavy. I felt really sorry for my postman when I saw him carrying a huge box on his shoulder up my drive!
Paige is well-packaged in a sturdy box, which is ideal for storing her in, though the box is too tall to fit under my bed, and clearly shows what's inside it, so she has to go in the wardrobe. One of these days I'm going to build a proper under-bed storage unit for my large collection!
Paige certainly looks the part. She has moulded pussy lips which are very lick-able, though she doesn't have a clit, poor girl. She even has a depression where the belly button would be, and two sweet dimples on her back above the wonderfully rounded butt.
The 'top' of the toy has a removable 'plug' for storage, which you replace with a battery pack for the built in vibrators (two of them!).
The battery pack takes over 2 hours to charge, which will get you almost an hour of usage. When you insert the pack, you need to plug in the two cables visible inside.
It's a little difficult since there's no play in the cable length, but not a major issue.
There's then a button to hold-in for 3 seconds which makes the pack light-up to show that it's ready. You can then use the single-button remote control to step through the various programmes. There are three constant speeds, and seven patterns.
There's a definite sense of weight to Paige. You don't feel that she'll move away from you as you thrust.
For our first time together I thought we'd try a standard missionary position.
I lubed up (Lovehoney Discovery as usual) and slowly entered her. The textured canal felt really realistic and she supported my weight easily.
She felt rather cold against me, though she soon warmed up. Perhaps next time I'll warm her up with a microwaved wheat-bag…!
Having previously been a Fleshlight fan (I have six!), the difference is clear. This is far closer to the real thing, even to the extent that as you thrust, the curve of the buttocks enables Paige to rock, almost as if she was raising her hips to you.
The vibrations really work well, though the patterns kind-of distract me - that first constant speed one is really rumbly and works very well though!
Next, I introduced Paige to the pleasures of anal! Turning her over into doggy position, I eased in and pressed up against that rounded butt.
Again, it felt really good, but if I had to make a criticism (and it's a small one!), the butt isn't actually that padded.
There is a certain amount of give to the silicone, but a bit of hard thrusting soon makes you realise it's not as realistic as it looks. Shame, but certainly no deal-breaker! We've also tried piledriver (in both holes) and I have to say it's far easier than in real-life! Clean-up is in some ways quite easy.
Paige comes with a douche to squirt water inside. A few squirts and you're done. It would probably be easier to wear a condom, but then you need the lube anyway, so you'd still need to wash her! However, one slight problem is actually with the sheer size. Paige pretty much fills my sink!
And she doesn't fit on my radiator (unlike my Fleshlights).
So I've had to resort to letting her drain-out in the sink for a few hours before putting her back in her box. Drying her is also a problem.
Because the holes are so small, and the tunnels are not connected, there is zero airflow so they simply don't dry just by leaving her out. I've therefore been drying her out using a facecloth pushed in and twisted round and round like using a tea towel in a narrow glass you can't reach the bottom of.
A bit of a phaff, but realistically there is no way you could design such a great-feeling toy in a way that would be easy to clean.
Aftercare requires that you dust her in renewer powder or cornflour. You might want to consider a bulk purchase of cornflour though because you are going to need it - there's a lot to cover here! Paige is an absolute delight.
An always willing, always available lover who definitely satisfies! Highly recommended.
On THRUST Pro Elite Paige Rechargeable Vibrating Masturbator 7kg