Womanizer + Lovehoney = Pro40 Pleasure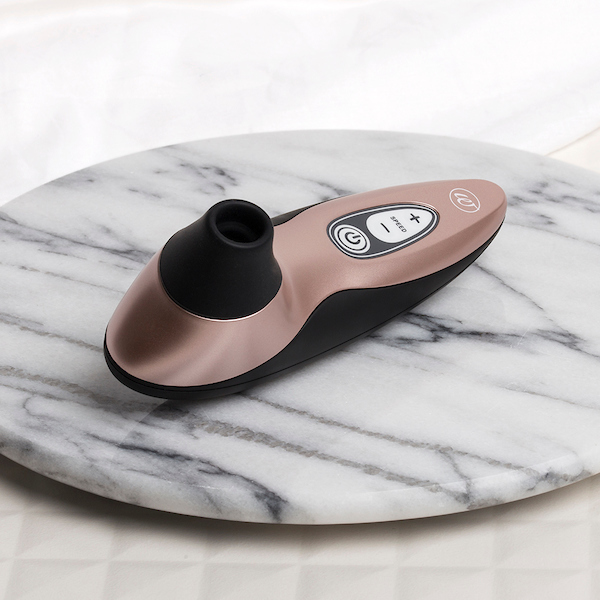 Feast your eyes upon your soon-to-be new fave vibe - the Womanizer X Lovehoney Pro40!
---
This little beauty blends the mind-blowing clitoral stimulating power of Pleasure Air Technology in a beautiful black and rose gold package, thanks to an exclusive collaboration between Lovehoney and the genius creators behind the classic Womanizer Pro40.
The original Pro40 is loved by all, and for good reason! So why not treat yourself to a cheeky upgrade with the new and improved rose gold edition, or delve into the world of erotic ecstasy if you're yet to try?
The Womanizer X Lovehoney Pro40 isn't just a pretty face. In fact, it's just as practical as it is dazzling. This stunning vibe is completely waterproof, rechargeable, and offers endless pleasure and toe-curling climaxes at the touch of a button. So, what are you waiting for? Give yourself the gift of Earth-shattering orgasms.
What Makes it So Great?
If you haven't already experienced the delicious bliss of Womanizer's Pleasure Air Technology, the Womanizer X Lovehoney Pro40 is the perfect place to start.
Pleasure Air Technology is an extremely clever bit of patented tech that stimulates the clitoris without direct contact, making it perfect for those with sensitive love buds. Instead, this toy uses the power of air to send shivering flutters to your velvet bean and its surrounds that will send you spiralling into ecstatic bliss.
Still wondering whether the Womanizer X Lovehoney Pro40 is for you? We'll let the reviews speak for themselves, so stay tuned to see what other Lovehoney customers have to say about this vibe and its predecessors.
---
Are You Hoping for Unparalleled Bliss?
What you say:
It's so worth the money. It works so quickly and it's pure fun learning how to play with it, building yourself up gradually. I inserted my glass beaded Lovehoney dildo and went to town on myself. It literally feels like you've got someone down their eating you. It's amazing. Leg-quivering body-shaking pussy-thrombin' clenching orgasms.
- Miss Mandy
It's quite pricey but it's definitely worth spending the extra money. I mostly climax from clitoral stimulation so this toy is better than any other vibrator I own and it makes me come every single time. The suction is gentle but the sensations are incredible. It's light in hand and looks very chic. Once you charge it, it lasts a long time and I love how it has 6 different levels so I can control it to whatever my preference is.
- Mtina
---
Are You a Power Queen?
Discover six powerful intensity levels that will leave you throbbing, without the numbness and sensitivities that often cum with other direct-contact vibes.
What you say:
The best thing about a suction vibrator is there is no loss of sensation or discomfort. If I use clitoral stimulation too long I get quite uncomfortable, but with this there is no stopping until I decide I have had enough not my bits! This is by far the best sex toy I have EVER owned. It can easily bring you to the point of no return after only a few seconds.
- RosyCheek
This is the first toy to ever make me squirt. I think it has some sort of heat comes from it when it's down there as it gives you a warm tingly feeling. There are 6 settings. The first time I use it I had it full blast and cum in under a minute. The fourth is the best one if you want build-up to the Big O.
- Anna2020
---
Do You Want to Include Your Partner?
Hop on the good foot and do the bad thing with your main squeeze and your new playmate, the Womanizer X Lovehoney Pro40.
What you say:
My wife loves clitoral stimulation so this toy sounded like it would fit the bill perfectly. At first, it was going to be a Xmas present but I could not wait to try it out on her when it arrived we opened it up and used it that evening. Well from slightly horny to squirting in less than 10 minutes. Her legs and body were shaking from the orgasms with squirt after squirt she could not get enough. Then we tried it on her nipples and that was just as good she was still squirting while I penetrated her from the nipple and penetrated together.
- Mr & Mrs Bunny Love
My boyfriend bought this for me for my birthday. I had been saying for a while I wanted to try this type of toy and my god I can throw all my others away now!
This is absolutely incredible. The first setting is a nice warm-up, but the next few settings had me so wet, with such an intense orgasm. My boyfriend loved watching me play with the toy. Best birthday ever! Girls... you need this in your life. Incredible!
- Bstars
---
Do You Struggle to Orgasm?
The gentle air vibrations of the Womanizer suck and massage your juicy jewel meaning you'll be reaching the glande finale in no time with this beauty!
What you say:
The reviews made me buy this toy and they do not lie. I thought I would test it just to see what it felt like fully intending to just try it for a couple seconds before leaving it to charge and I had an orgasm after about 30 seconds of switching it on! I'm someone who usually goes straight for the most powerful setting but I could only handle setting 3! It was the fastest but longest and most powerful orgasm I think I have ever had. If you're looking for a sign to buy this, this is it!
- Kate15
Being nearly in my mid-twenties and having never orgasmed, I genuinely thought it was something I'd never achieve. When I first got the Womanizer I knew straight away this is what would eventually get me there, and it did!
I've been using the Womanizer for almost a year now, and looking back I can genuinely say it's changed my life. The stress and loss of confidence I had in myself and in the bedroom the older I got without being able to orgasm really took a toll on me, I literally cannot recommend the Womanizer more for anyone in a similar position!
- Lisa94
---
Are You Looking to Inject More Arousal into Your Life?
Effortless, toe-curling orgasms are just the click of a button away.
What you say:
I can barely describe what it does as it's so intense and I still don't understand how the magic happens. It's like witchcraft. It literally takes seconds for me to orgasm and when I do it's the best one I've ever had and it just gets better every time.
- Leelee1982
All I can say is that this toy is absolutely incredible and worth every penny.
If I had to only use one toy for the rest of my life, it would this. It gave me the most intense, unparalleled orgasm that seemed to last forever and left me shaking. I try to give my other clitoral toys some love but I just keep reaching back for this baby!
- Lovehoney - Rainbowcakes
---
Should I Buy it?
Hopefully by this stage there are no more doubts left in your mind as to whether or not you need this baby in your life. If you're still not sure whether you're ready to add the Womanizer X Lovehoney Pro40 to your shopping cart, this pussy pleaser offers more than just a good time. Thoughtfully designed with luxurious body-safe materials, completely waterproof, and USB rechargeable, this kinky toy is everything you've ever wanted and more. It's discreet and compact, making it the perfect size to drop into your handbag for a cheeky travel quickie. Or use it during solo play, foreplay, or when you're getting down with your plaything for a real good time. Lightweight, easy to use, simple to clean, AND absolutely gorge - what more could you possibly want?!
Explosive, bottomless pleasure is priceless, but the Womanizer X Lovehoney Pro40 can be all yours for just $169.95. So, what are you waiting for? Do yourself and your lady button a solid and relish in endless orgasms. You can thank us later.