Coming Soon From Lovehoney...
Make the last few months of working from home really pleasurable…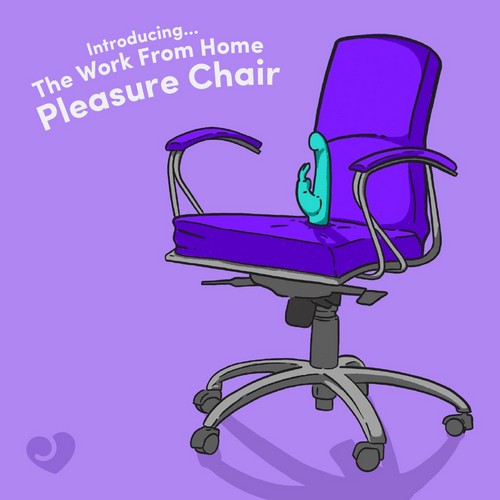 Here at Lovehoney we've been designing and creating our own-brand sex toys for over 15 years. We pride ourselves on our strong relationship with our customers, on truly listening to what the world wants, understanding the needs of couples and individuals, and using that to design sex toys that give out-of-this-world pleasure.
The events of the last year have been unprecedented. We have all had to adapt to new ways of living and working, and we know how difficult these changes have been. Millions of people have been working from home for the first time ever, having to create home offices, or separate out a small area of their living room for work.
In many ways, creating that separation of work and play in a physical space is vital for our mental health. Blurring the lines of where 'work mode' ends and 'fun time' begins can make it hard to concentrate during the 9-5, and can also mean job stress affects your relaxation time - and your sex life.
But what if there was another way? What if we could help make your work more… pleasurable? What if, in the last few months of working from home, we could really take advantage of not being in an office surrounded by co-workers?
Introducing… the Work From Home Pleasure Chair.
That's right. An extension to our popular range of sex machines, the Work From Home Pleasure Chair is the exciting new way to get the most out of every minute at your desk. No need to walk across the house to your bedroom for your afternoon "coffee break" (ahem) anymore!
Our patented Clip'n'Ride system allows you to switch the chair from 'work mode' to 'play mode' with ease. Simply slot the attachment plate into the grooves on the chair seat, push down to clip it into place, and climb aboard. Once you're finished, give the plate a wipe with sex toy cleaner, release the clip on the side, and slide it off. It's your little secret.
The standard attachment plate features a silicone dildo with 6" insertable length, and curved shaft to pleasure your G-spot. The textured bump at the front of the plate allows for maximum clitoral stimulation whilst you bump 'n' grind your way to ecstasy. Want even more stimulation? The wired controls allow you to add just the right amount of vibration - choose from 3 speeds, and 7 different vibration patterns.
Never have a 'bad day at work' again. For more information on the Lovehoney Work From Home Pleasure Chair, including how you can be amongst the first to get your hands on one, click here.