How to Have a Mind-Blowing Valentine's Day: Tips from Chantelle Otten
Whatever you do this Valentine's Day, at some point we here at Lovehoney hope that you have a romantic... even spicy, erotic night.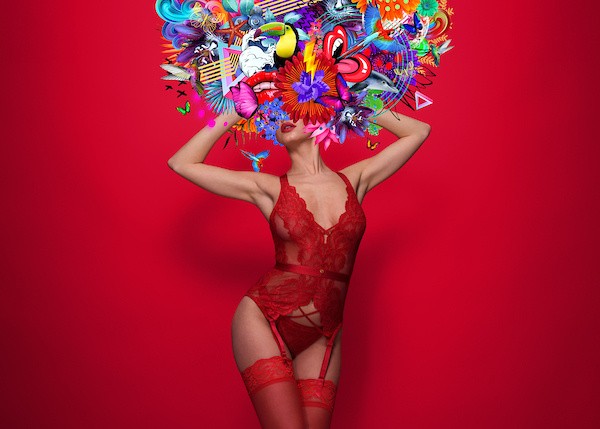 So this year we invite you to have your mind blown this Valentine's! Why waste all your efforts on old sexual scripts? Let's try something new and make the night memorable. I have chosen a few hot toys for any type of romantic relationship on Valentine's Day.
Let's start with something to wear on Valentine's night... You want to blow not only your own mind but your lover's mind as well. My picks this year are the Beau Lace set and the Fifty Shades of Grey Captivate Collection. The Beau Lace is one size fits all and all it needs is some stockings and a pair of heels... VOILA! Red temptress!
The Fifty Shades of Grey Captivate Collection is wonderful if you plan on adding some kink to your Valentine's Day. The colour scheme and design fits perfectly with the aesthetic of their bondage gear, which will hopefully come out to play.
---
Don't have a partner? Who said that Valentine's Day is for 2 (or more)? Valentine's Day is a day to romanticise YOU! Get dressed up for yourself and use some solo toys to turn up the heat. I would suggest the Womanizer Starlet for those who love clitoral play, and, if you are into G-spot and clitoral stim, then definitely choose my favourite toy... the Fifty Shades of Grey Greedy Girl Rabbit Vibrator. It hits your pleasure spots in all the right places, and will literally blow. your. mind.
For those loved-up couples, let's start the night slow and build up the momentum. Light a candle, have music play and whip out some sensual massage oil and really give each other's bodies a slow start to your night.
---
Once you and your partner are ready, it's a great idea to share your vibe experience, and melt into each other's bodies. I suggest the brand-new We-Vibe X Lovehoney couples' vibrator. This is a new collaboration from the pleasure experts at Lovehoney with the world-renowned We-Vibe team. This sleek couples' vibrator fits between you and your partner during intercourse, delivering vibrations and leaving your hands free to wander. You can turn up the vibrations and the patterns with a wireless remote, so you don't have to interrupt your passion.
---
If you want to take this experience to the next level, then I suggest that you incorporate the Fifty Shades of Grey bondage tools. Never got into BDSM? Valentine's Day is a great place to start - just remember to take it slow. BDSM is a broad term for a lot of kinky play. The acronym stands for bondage, discipline, sadism and masochism. That sounds scary, but it's very pleasurable and can be as low-level or high-level as you want!
---
To break it down...
Bondage is the act of tying down or being tied down during sexual activity, maybe with rope, tape, a scarf or chains.
Discipline and domination is the idea of relinquishing control to our partner, having them control our sexual pleasure and potentially punish us for misbehaving. Depending on the punishment, we might be naughty on purpose!
Sadism refers to people who enjoy inflicting pain on others.
Masochists are those who enjoy someone inflicting pain on them. This might just be spanking, or maybe some whipping, or maybe a caning. You don't need every element of BDSM to be kinky.
---
Now, let's take advantage of Lovehoney's new Fifty Shades of Grey bondage accessories. I would suggest that we start off with the faux leather wrist cuffs... and maybe the ankle cuffs... and the blindfold.
Have your We-Vibe vibrating, and you and your partner can agree that they will be in charge of the pleasure (they are the Dom!). They will play with you and take control of the vibrations while your control and sense of sight are taken away from you. Just remember to agree on what you would like to have done to you, and what your safe word is (maybe... "Valentine").
---
Now, I realise that there are some partners that are not going to be able to be together on Valentine's Day. But that doesn't mean that you can't get some spicy long-distance loving.
I suggest the Lovense Lush 2, which is a wearable vibrator that is designed to go inside (with some water-based lubricant), hit on the G-spot, and vibrate on the clitoris at the same time. It is connected via an app so that patterns can be used inside and outside the bedroom and over a long distance (or... across the table if you want to wear it to dinner).
How hot is it to be able to hand over the control to your lover? All you need to do is download the app and allow them to control the Lush from any distance. Even cooler, you can sync it up to your Valentine's Day playlist and it will vibe with the music.
---
Have fun this Valentines, let go of inhibitions and remember to enjoy yourself.
With love,
Chantelle Otten and the pleasure experts at Lovehoney.
---
Chantelle Otten is an award-winning sex therapist and relationship specialist in Melbourne, Australia. You can follow her on Instagram, and find out more at chantelleotten.com.