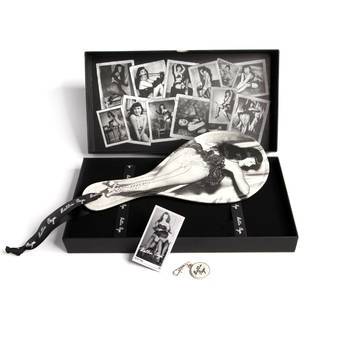 Did you know that there are quite a few products that were created right here at Lovehoney? We have brought you some of the most iconic sex toy brands of the last decade and you can find the best of our own brand sex toys and BDSM gear right here. Check out my top 10 original Lovehoney picks from Sqweel, Fifty Shades of Grey, Bettie Page, and more.
1.Bettie Page Picture This Spanking Bat
The luxurious Bettie Page Picture This Spanking Bat is beautifully designed and features two broad spanking surfaces, ergonomic handle, and a wrist strap. Both paddles in the range are adorned with a classic black and white photo of Bettie Page herself. If you're looking for a smaller size try Bettie Page Picture Perfect Spanking Paddle or collect them both.

"For me though, the Bettie paddle feels amazing on both sides, and I love the tease of not knowing which will come next." - pennysblog, Lovehoney customer
See more Bettie Page Pleasure Products