"Unlike Any I Have Experienced" - Review of the Month, January 2015
The sex toy industry tends to toss around words like revolutionary and unique with every new sex toy, but the Womanizer USB Rechargeable Clitoral Stimulator truly offers brand new type of sensation, using suction to take clitoral stimulation to a new level.
You don't have to take our word for it. Read our favourite user-uploaded review from the past month describing how a Womanizer orgasm is like no other:
"[the sensation] goes up a notch, up a notch, up a notch, up another notch, OMG up another notch and pretty soon you hear yourself making a sound you have not heard since childbirth." Read the full review by BBWinch here.
For writing and uploading our favourite review posted during January BBWinch has won a $200 Lovehoney voucher. Plus, we've chosen a few runners up who's reviews you can read below.
Want to write a winning sex toy review? Read our guide to Writing Great Product Reviews and you could be next!
---
We've picked three fabulous reviews from January as runners up. Each member wins 2,000 Oh! Points to spend or save on their Lovehoney account. Congratulations!
Runners Up
glitterary's review of TENGA Egg Lovers Heart
"In general, these eggs are seem to be best suited to stimulation of the head of the penis; you can pull them down further, but they won't cover the whole shaft, and the more you move them around the more apt they are to slip off, make funny noises, or split."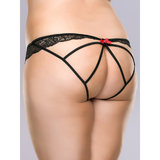 TheMinxyMilly's review of Lovehoney Plus Size Spoil Me Satin Cage Brief
"I don't normally feel good in lingerie. It never fits properly or bunches up in weird places, and isn't usually comfortable. Yet, nothing makes my behind feel sexier than the Lovehoney Spoil Me Satin Cage Brief. The way the cage brief covers, or rather doesn't cover my Oh-So-Bodacious Booty, makes me feel incredibly attractive. I cannot say that about any other lingerie I own, nor any other clothes. I have always felt very unhappy with my body. Yet, this undergarment changes that for just a few hours."
BlindMonkey7's review of Fifty Shades of Grey Restrain Me Bondage Rope
"First impressions count! The presentation of the rope with the packaging really keeps in line with the sleek and smart look of all the FSOG stuff. Both ropes are wrapped with double sided card. One side with the usual indulging wording on and the other with some really handy instructions for beginners. And if you're so lucky to speak another language, you can read it in French, Dutch or Spanish."
---
You may also like: