Bondage and Sensation Play With The Bettie Page Collection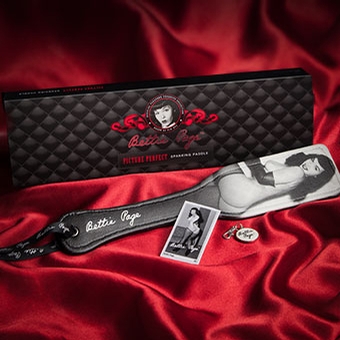 Lovehoney is delighted to offer the official Bettie Page Pleasure Products Collection! This celebration of Bettie's kinky side was lovingly developed as a range of powerful, effective bondage and sensory accessories, to add beauty and style to your sexy play time.
As an official piece of Bettie Page merchandise, it's very important that we please long-time and more recent Bettie fans, as well as people who are just looking for a luxurious product to add to their selection of kinky gear.
Each item in the new Bettie Page line makes a thoughtful gift for fans of the queen of bondage, pinup style, vintage glamour and BDSM play. Keep up to date with all the latest Bettie Page toys news via Facebook and Twitter. Plus, the line was recently featured in the UK documentary series Frisky Business, check out a clip right here online at LifetimeUK.
Read real customer's reviews of Bettie's inspired line of bondage accessories below and let us know your favorites in the comments.
Pictured here: Bettie Page Picture Perfect Spanking Paddle
---
"Fans of Bettie Page appreciate not only her influence on the bondage scene, but also the element of glamour she brought to her sexuality"
- Lovehoney's Commercial Director Ray Hayes.
---
"With a lovely soft, cushioned velour inner and quilted (faux)leather outer, you can relax without the tugging and nipping of other cuffs." - moonshine79, Lovehoney customer

Bettie Page Wild 'n' Willing Wrist Cuffs

"This collar and leash set is very luxurious and comfortable. Perfect to subtly display your ownership or to play with in the bedroom…" - Avrielle_Aniko, Lovehoney customer

Bettie Page Collar Me Bondage Collar and Lead Set

"The bondage rope is of very good quality and with 30ft of it there's plenty you can do and you could tie the whole body easily." - bossgirl, Lovehoney customer

Bettie Page Tied & Teased Cotton Bondage Rope
Another way to tie her up: the Bettie Page Sweet On Satin Restraints Set is luxurious with beautiful quilted detailing.
---
A statement piece: A cheeky image of Bettie Page is pictured on the versatile Bettie Page Picture Perfect Spanking Paddle shown in the video above.
---
"Everything in this set is just sexy. Right from the outside sliding sleeve to the inside box and the trinkets that it holds." - JustLikeHeaven, Lovehoney customer

"Even the wrist strap has Bettie Page printed in silver cursive. The paddle is so lovely, I almost wanted to just use it as décor…but I had to try it out." - pennysblog, Lovehoney customer

"Everything about this item is stunning. It looks amazing and feels amazing. It isn't uncomfortable to wear in the slightest…" - FrozenAngel, Lovehoney customer

Bettie Page Bad Girl Blackout Blindfold
Need more stimulation: the sleek black slimline Bettie Page Vibro-A-Go-Go Classic Vibrator does the trick.
---
Tell us in the comments: which vintage inspired item will be your favourite from this already classic collection?
---
Still looking for the best bondage gear for your needs?
Lovehoney Customer Care can help you find the right bondage accessories for your play. Send an email any time, call us on the phone, or use live chat and you'll reach an experienced advisor. We're available to help and advise 24hours a day from Monday to Friday, and Midnight - 14:30pm AEST Saturday too!
You can also tweet your questions to @lovehoney_au or @LovehoneyHelp
---
You may also like: